A world-class gold deposit supported by a world-class team
A world-class gold deposit supported by a world-class team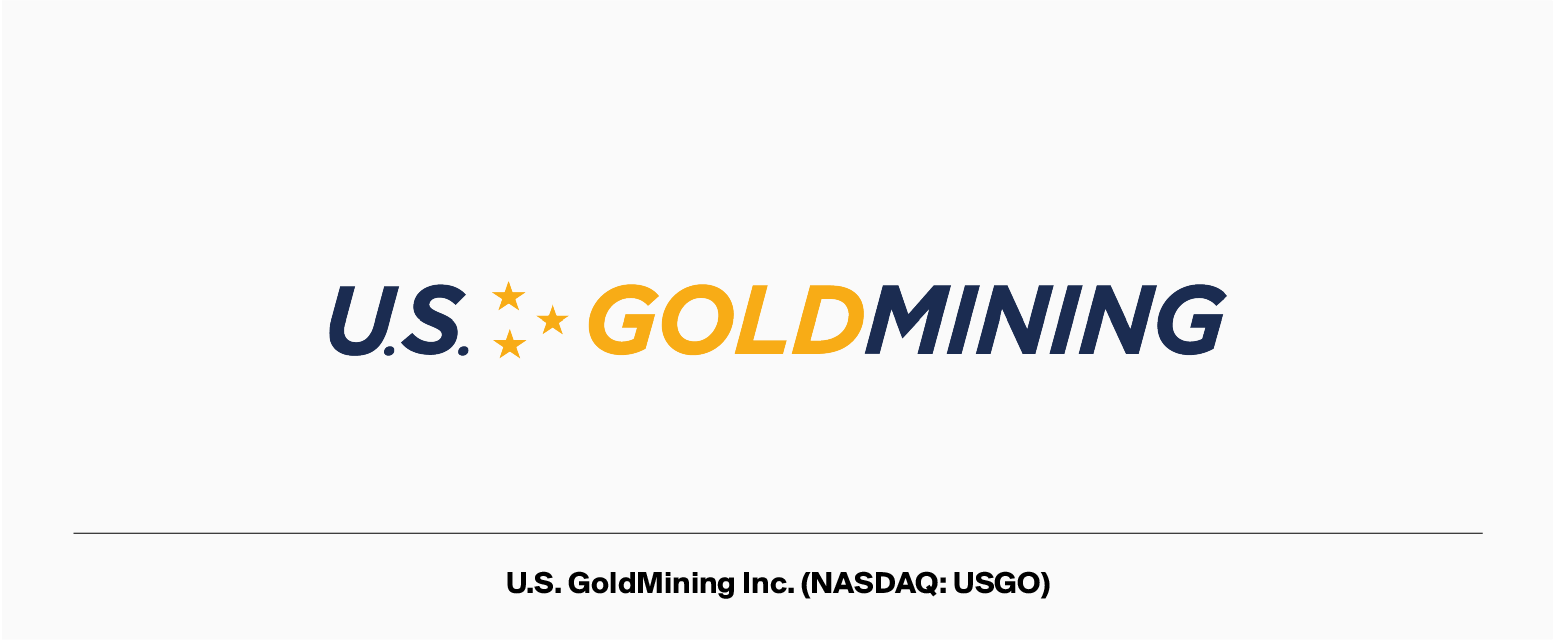 U.S. GoldMining Inc. (NASDAQ: USGO)
The story at a glance:
An incredible team: Includes CEO Tim Smith, responsible for the discovery of the Coffee gold deposit sold to Newmont for $520 million, and Chair Alastair Still, who has directed the construction of mines that have produced millions of ounces of gold at Newmont, Goldcorp, Placer Dome, and Kinross.
Massive flagship project: Whistler is a district-scale project in Alaska with 3.0 million gold-equivalent ounces indicated and 6.4M AuEq oz inferred
Prime acquisition target: With years of experience working for the majors, the U.S. GoldMining team aims to tick every box and deliver Whistler to the majors on a plate
Room for expansion: Immediate plans for infill and step-out drilling, with the potential for further exploration upside
News on the way: Big moves in the near future and updates coming soon
A new gold company whose IPO has generated a lot of interest.

On April 24, U.S. GoldMining, a subsidiary of GoldMining Inc., closed its initial public offering, raising US$20 million at US$10.00 per share.
The reasons for the excitement surrounding the U.S. GoldMining are simple:
A world-class gold-copper project in Alaska, one of the best jurisdictions on Earth
3.0Moz AuEq indicated and 6.4Moz AuEq ounces inferred
A stellar team with exits in their past, specific experience mining the area, and the know-how to get mines built
It's the most straightforward story you can find among precious metals companies: an A+ project, lots of ounces in the ground, and excellent management.
Let's dig deeper into each of those factors. First comes Whistler, the project that forms the core of U.S. GoldMining's investment thesis.
The Whistler Copper-Gold Project: A clear open-pit story in a winning jurisdiction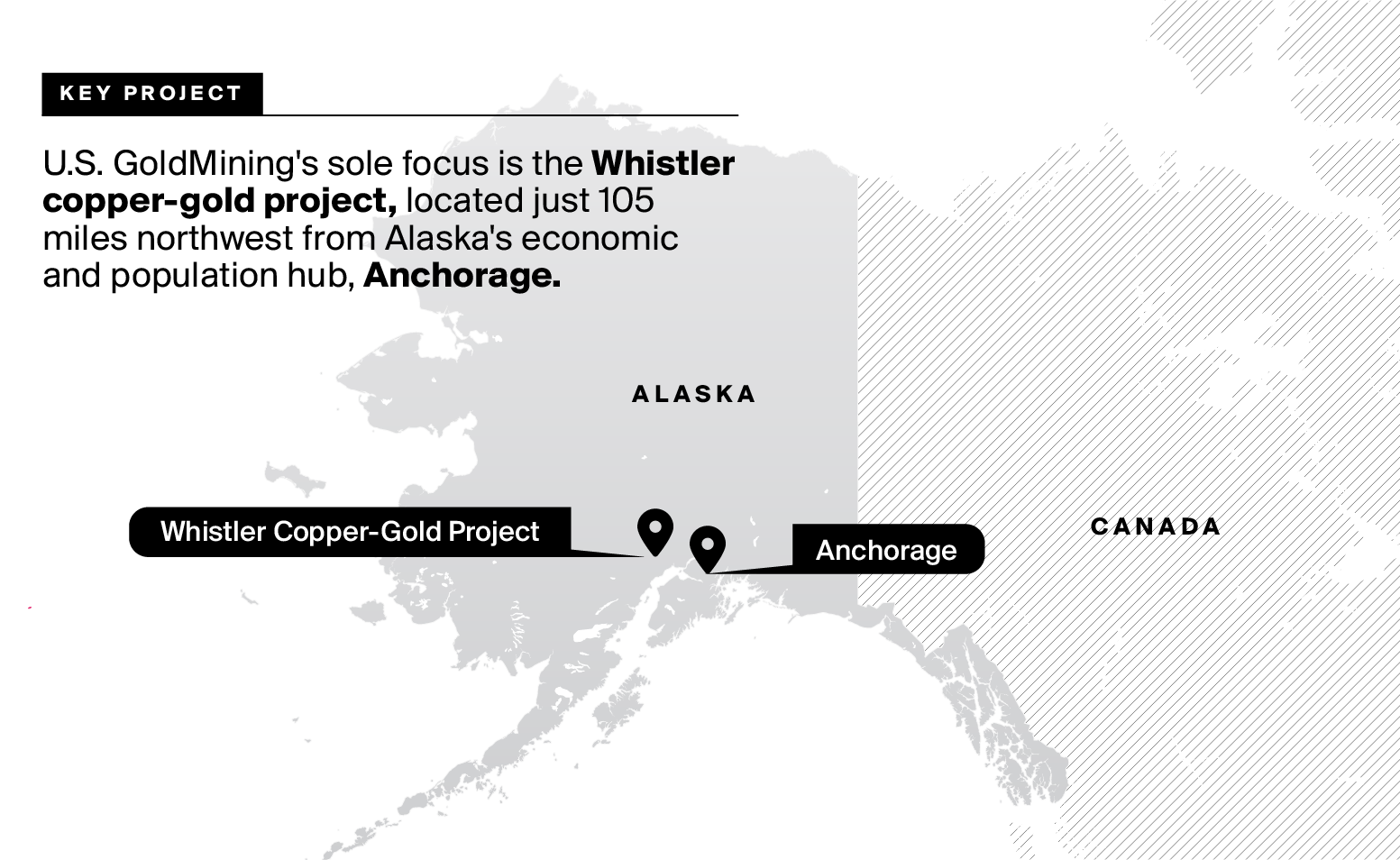 U.S. GoldMining's sole focus is the Whistler copper-gold project, located just 105 miles northwest from Alaska's economic and population hub, Anchorage.
Before we get into the structure of the project and the millions of ounces of gold it hosts, it's worth talking a bit about this location.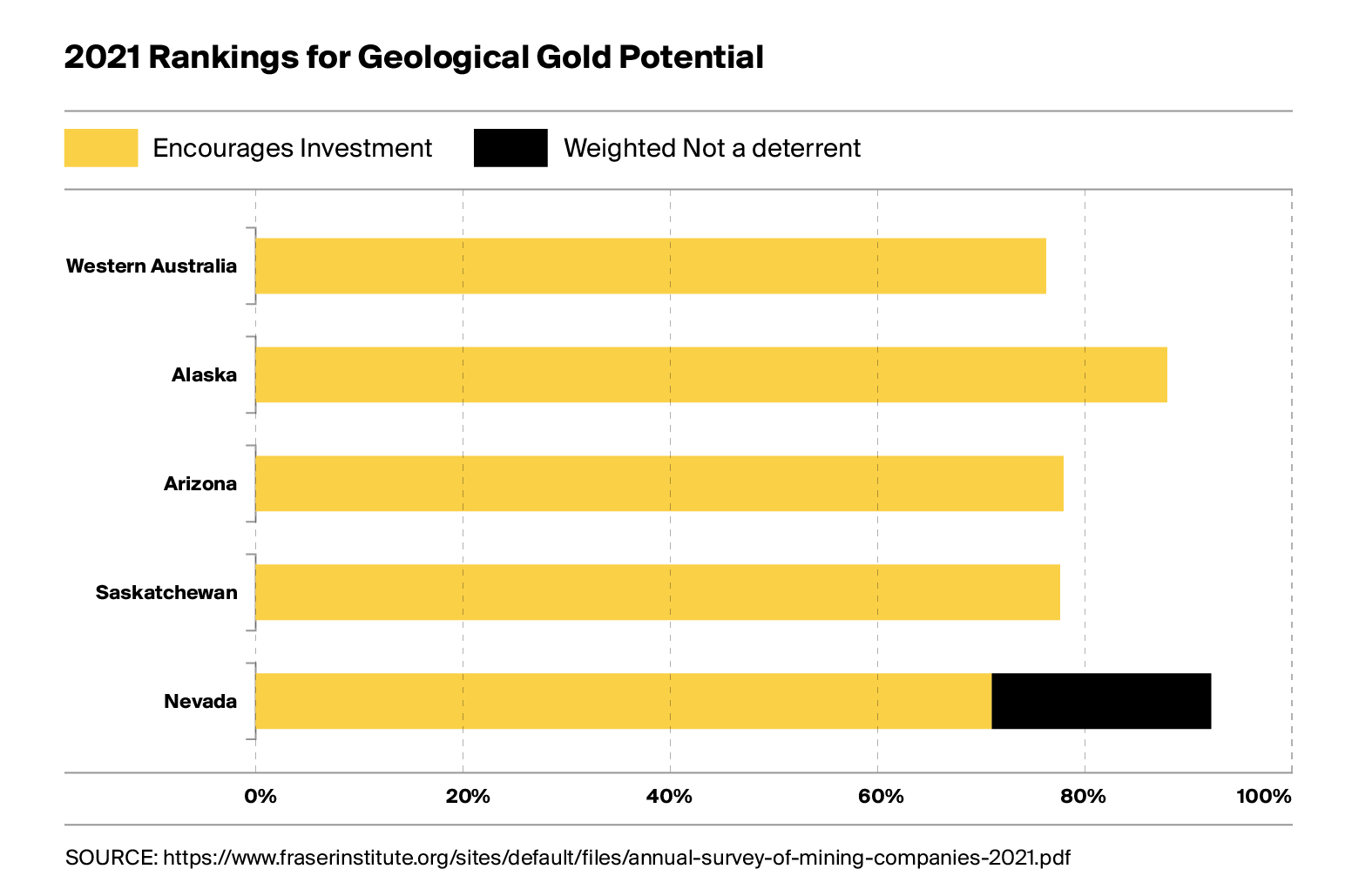 In 2021, Alaska was ranked the #2 best district in the world for geological gold potential by the annual Fraser Institute Survey, and ranked #4 for overall investment attractiveness.
Alaska is well-established as a mining hub, and remarkably supportive of the industry.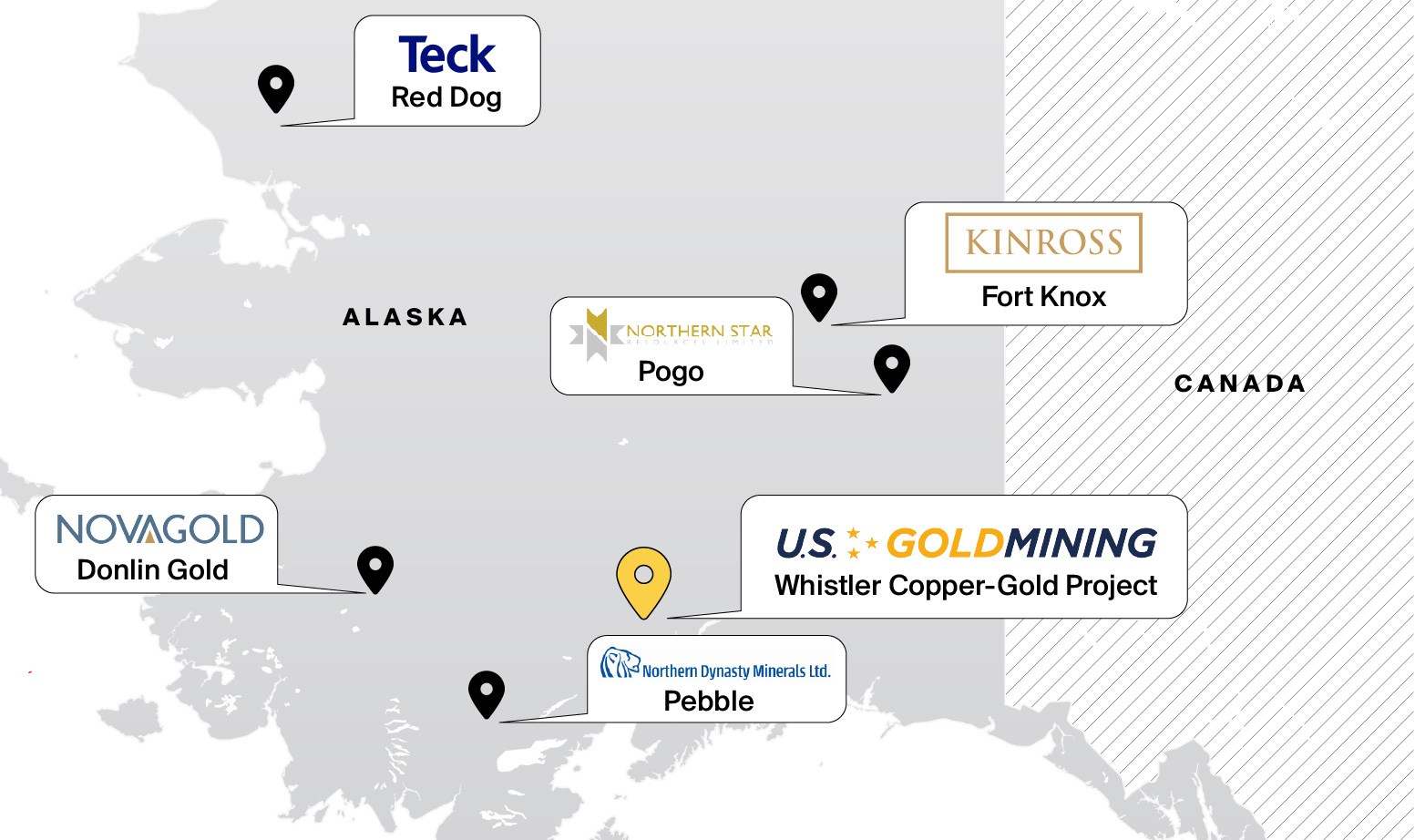 What's more, U.S. GoldMining is in good company there. The state is home to some of the biggest mines and deposits in the world, including NOVAGOLD's Donlin project, Northern Dynasty's well-known Pebble project, Kinross's Fort Knox gold mine, Teck's Red Dog base metals mine, Northern Star's Pogo mine, and more.
Alaska is a territory with a long history of tremendously successful mineral extraction projects, with a supportive local government working to invest in mining infrastructure. The state is huge—bigger than Texas, California, and Montana combined—and it is almost certain that further world-class discoveries wait beneath its surface.
Whistler is positioned a little differently from the big projects listed above, though. It's not way off in the wilderness, covered in glaciers at the top of a mountain, which makes it all the more likely to be successful. There's a wide array of positives associated with Whistler's prime location: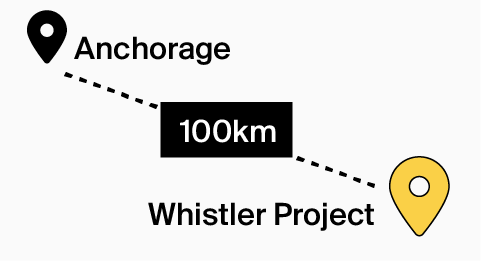 Whistler's only just over 100 miles from Anchorage, the biggest population center in the state, equipped with a port, extensive power and infrastructure, a large workforce, and virtually everything else you would need to support an eventual mine.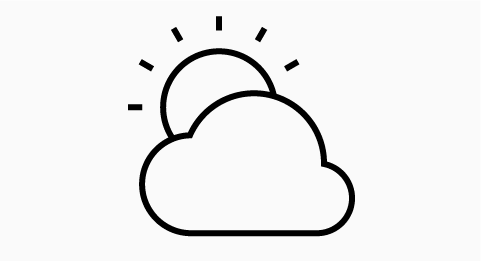 The project is on a relatively small hill with mild weather for Alaska, in an area that can be mined year-round. Unlike many of the other major deposits in the state, it's fairly easy to access.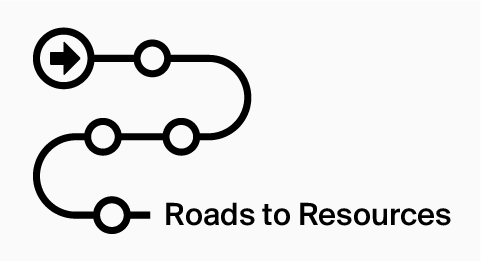 State-funded governement infrastructure: The project is located right along one of the "Roads to Resources" planned for construction by the state government in the coming years. While the company won't really need such a road until mine construction actually begins, plans indicate it could come online at the perfect moment, which is encouraging. This means access will only get easier as time goes on.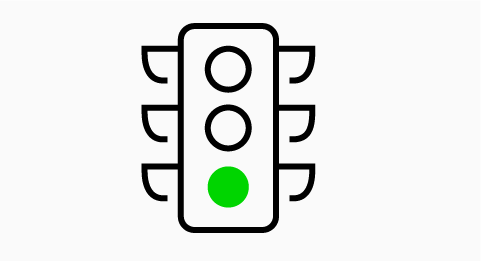 The project is on state land, not federal, Bureau of Land Management, or National Park land. This gives it even more chance of moving through permitting by the mining-friendly local government.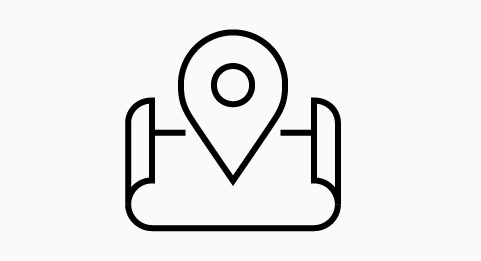 Whistler is far from critical watersheds and other environmentally sensitive areas, minimizing the potential impact of human activities on important ecosystems and drastically reducing the danger of being blocked by government agencies.
This final point is important, because projects in the wilds of Alaska can be subject to intense regulatory scrutiny. Sometimes approval can be wobbly. Pebble, effectively blocked in January by the Environmental Protection Agency for threatening critical salmon spawning grounds—is the most high-profile example of this.
However, due to Whistler's location—and the early efforts of its team to start building relationships with stakeholders—such risks are extremely minimal when compared to its peers.
A whopping 3.0 million ounces indicated and 6.4 million ounces AuEq inferred.
Of course, Whistler's location wouldn't matter much if the project didn't have the geology to make it exciting.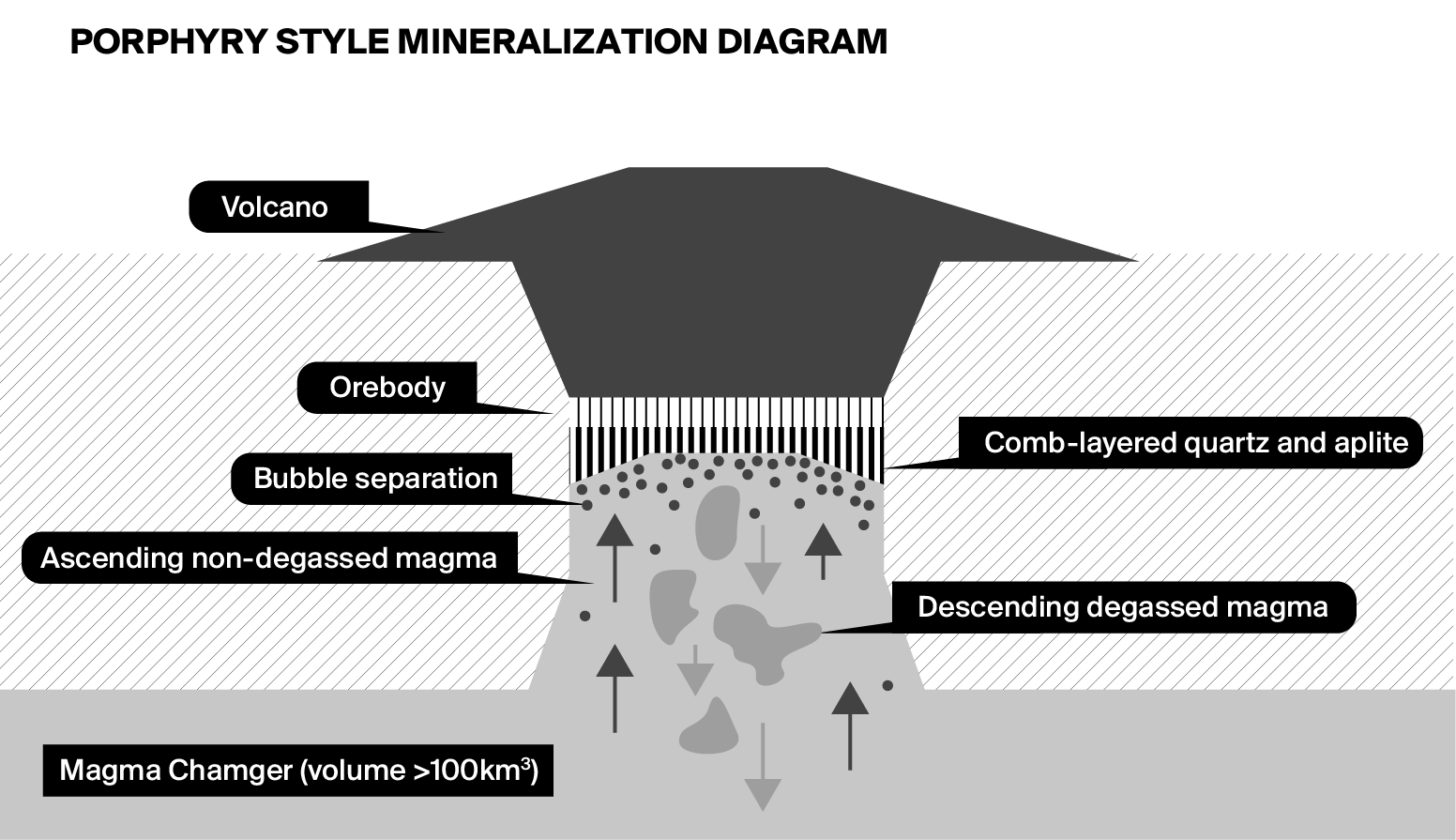 Without getting too technical, Whistler's three known deposits house porphyry-style mineralization, with big columns of deposits plunging from deep in the Earth to near the surface, and including large zones of high-grade at their core. The host porphyry intrusions are the underground roots below ancient, now eroded away volcanoes.
These high-grade intersections are wide, running up to hundreds of metres, and sit near the surface of the hill, making it the perfect target for an open-pit mine.
Whistler's previous owners conducted over 70,000 metres of drilling on the property, with the most recent program ending in 2011. However, the project never came to fruition, and the company sold it to what would later become U.S. GoldMining in 2015, a dark year for gold when the yellow metal's average price was only US$1,158 per ounce.
Compare that to today, with gold hovering around US$2,000 per ounce, and it's easy to see how much more economical Whistler truly becomes.
When looking to build an open-pit mine, geologists look for thick sections of high-grade gold, which we'll simplify here as anything above 1.0 gold-equivalent grams per tonne (g/t AuEq).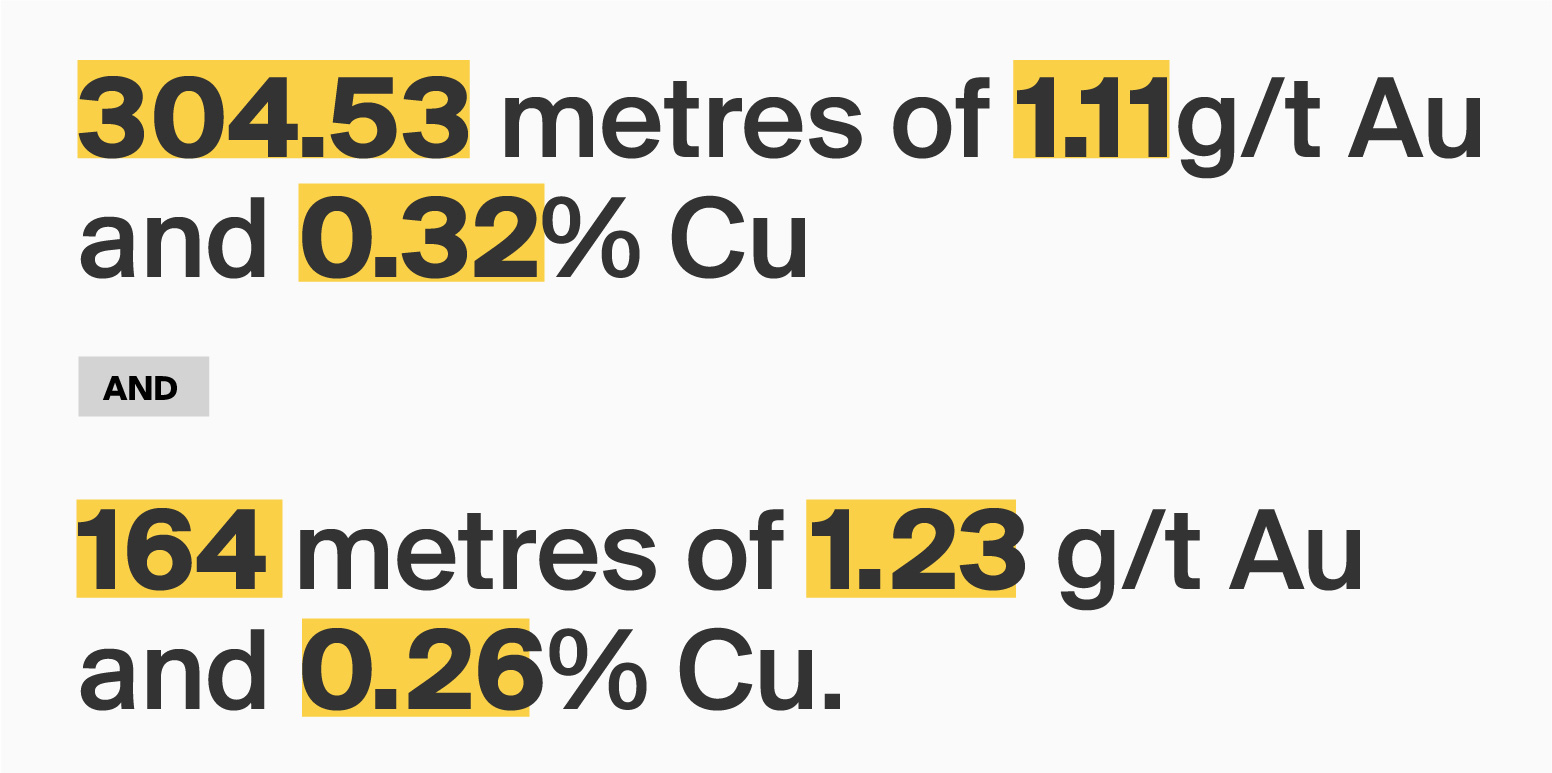 To put Whistler into perspective, two of its most exciting drill intercepts include 304.53 metres of 1.11 g/t Au and 0.32% Cu, and 164 metres of 1.23 g/t Au and 0.26% Cu.
These are eye-popping results on their own, but combined with all the other extensive drilling, they paint a compelling picture of a deposit not only ripe for an open-pit mine, but begging for further exploration to expand its resources.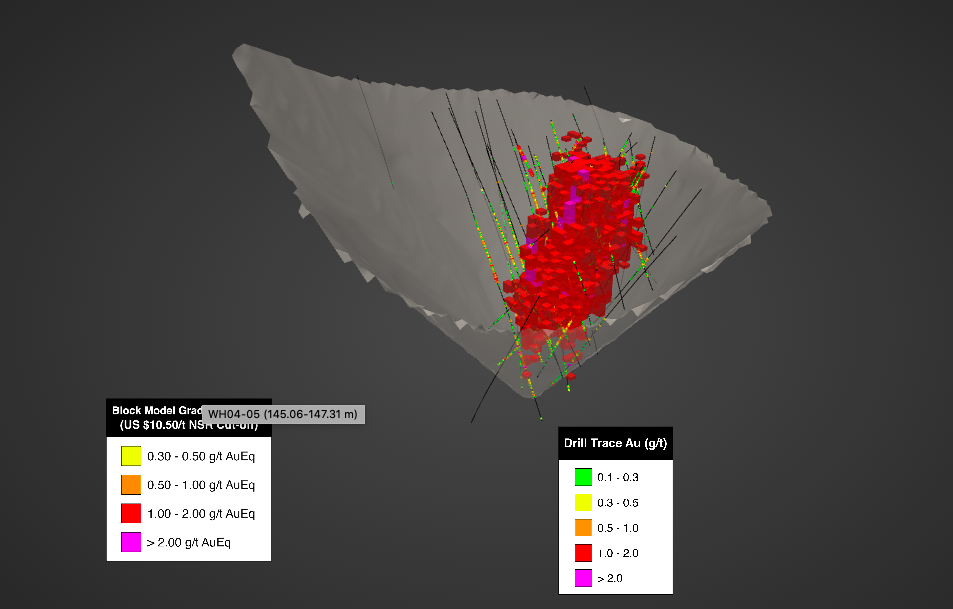 Across all three deposits, Whistler (by far the biggest), Raintree, and Island Mountain, the pit-constrained resource comes to 3.0 million ounces AuEq indicated and 6.4 million ounces AuEq inferred. This is according to an official, 2022 technical report.
That puts Whistler among the biggest known gold deposits in the world. And U.S. GoldMining hasn't even begun drilling the project itself yet.
A project that ticks all the boxes for a takeout by the majors.
The blue-sky scenario for U.S. GoldMining is to explore Whistler, expand its resources, advance the project through permitting, and then sell it to a major like Barrick, Kinross, or Newmont.
Big players like these have to keep producing massive quantities of gold each year, but they rarely explore for new discoveries themselves. As their own mines steadily deplete, they need to buy up projects from smaller operators in order to keep up output.
In order to achieve these goals, the majors look for projects that meet a long list of criteria. Whistler already ticks many of these boxes, including: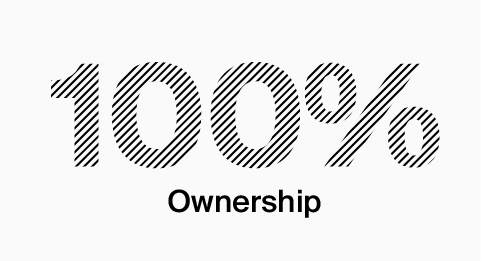 District-scale investment play: Majors like to see huge properties where the entire mineable area is fully owned, and there's abundant potential for further exploration. At 53,700 acres, Whistler fits the bill.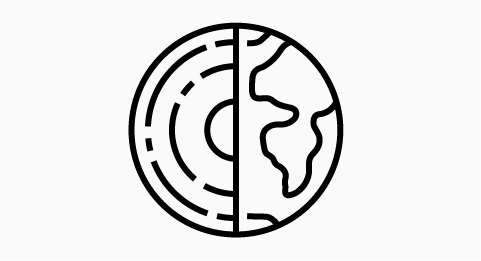 Ounces in the ground: Majors tend to search for projects with 5-10 million ounces of gold or more showing up in inferred and indicated resources. Whistler's already there, with a good chance of adding further ounces with ongoing exploration.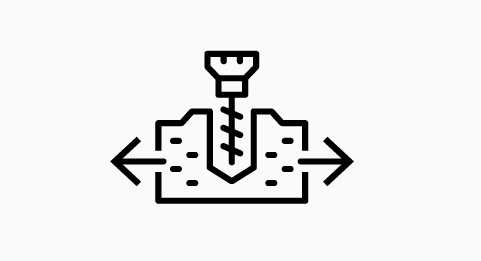 Room to expand: Majors aim to use their large resources to uncover additional value with the projects they buy, so they look for prospective mines that have a lot of places to expand. Whistler's three deposits have many step-out points and may house a lot of unexplored gold not yet seen.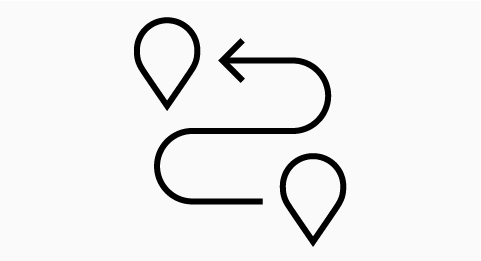 Access to infrastructure: Majors need to be able to justify the economics of building the mine itself, which requires access to roads, equipment, infrastructure, and an eventual workforce to operate the mine as it grows. As we've stated, Whistler is only 100 miles from port, and the Alaska state government is planning to build a road that would go almost straight up to the prospective Whistler mine.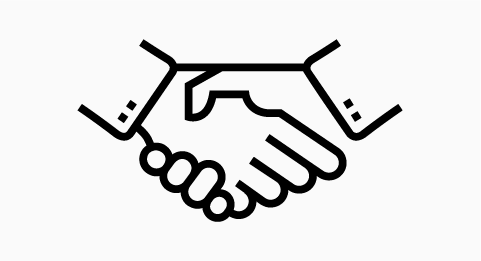 Social license: Majors don't want to get mired in permitting and ESG concerns. Any mine that a big operator would bother with will last over 20 years, which makes it a generational concern for the local economy. So it's essential that the company from which they buy a project has built generational relationships with the stakeholders surrounding the eventual mine. U.S. GoldMining is ensuring they begin building these relationships right from the jump, and with experts on achieving social license on their team, they're already making incredible progress.
And then there are a host of other concerns—life of mine, mineability, hydrogeology, having the space for tailings and all the other things that come with a mine, long-lead time environmental work—that we don't have time to get into here but which are nearly as important to major miners. Suffice it to say that U.S. GoldMining has already addressed or is working to address.
Basically, U.S. GoldMining could deliver Whistler to the majors on a platter.
U.S. GoldMining team is perfect for this mission, with years of experience at Newmont, Goldcorp, Placer Dome, Kinross, and more.
And, the company recently mobilized its field teams to Whistler, doing the work that will enable the beginning of drilling, mine engineering, and environmental baseline studies later this summer.
Which brings us to our next point…
A genuinely best-in-class team with region-specific experience, exits in their past, and experience building mines.
When you're considering investing in a precious metals company, its team is one of the most important factors.
What you want to see is a team with a history of success, with multimillion-dollar exits under their belts and the kind of region-specific know-how that empowers them to succeed exploring and mining the area in which they now operate.
U.S. GoldMining's team is precisely what you look for.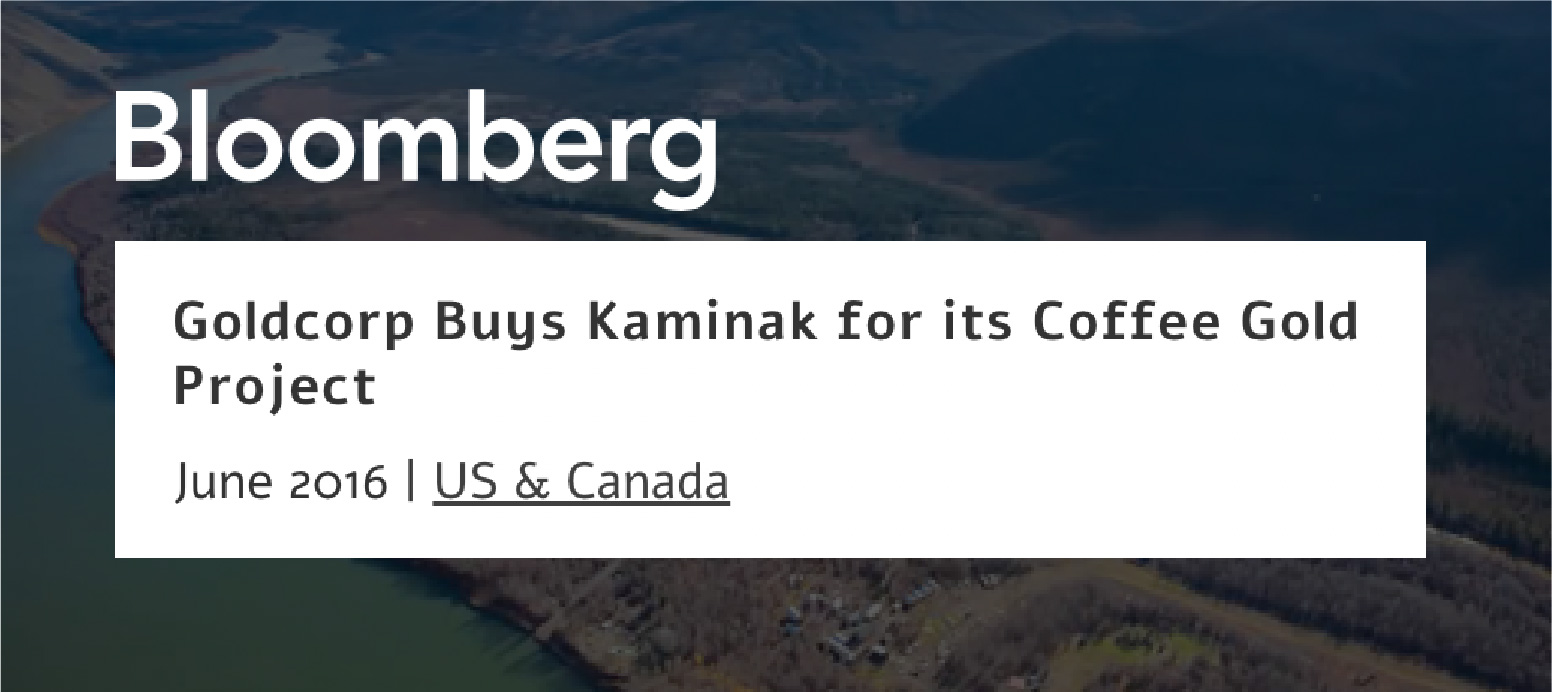 First comes the company's CEO, Tim Smith. Mr. Smith is a lifetime geoscientist with over 25 years of experience, best known for his award-winning discovery of the Coffee gold deposit in his previous role at Kamak Gold. The project was sold to then-Goldcorp (now Newmont) for CA$520 million in June of 2016.
Coffee is positioned along similar mineralization to Whistler, in a similar far-north region south of Dawson City, Yukon. At the time of sale, it contained resources of 3 million ounces of open pit-constrained gold, and another 2 million ounces in deeper mineralization.
The fact that U.S. GoldMining's CEO comes with the experience of discovering a major subarctic gold deposit and selling it to a major bodes well for the company's ability to do the same.
On the other side of the acquisition equation is Alastair Still, Chair of U.S. GoldMining. Mr. Still is the current CEO of GoldMining Inc. and Director of Technical Services at Gold Royalty Corp, but perhaps more importantly, he is also the former Director of Corporate Development at Newmont. In that role, and similar roles at Goldcorp and Placer Dome, Mr. Still was a force driving M&A at some of the industry's biggest companies.
The combination of Mr. Smith and Mr. Still's extensive experience in both junior and major miners gives us the confidence that this is a team with the know-how to push Whistler past the finish line.
Room for expansion, with news coming soon
Importantly, there's plenty of room for growth at Whistler. U.S. GoldMining has a four-pronged plan to add value to the project: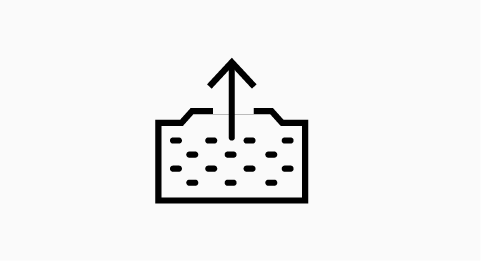 Upgrade inferred resources to indicated
With infill drilling and updated geological modeling, the company aims to convert as many of those 6.4 million inferred ounces to the higher-confidence indicated category. If it is able to accomplish this, it will make the project more attractive and valuable.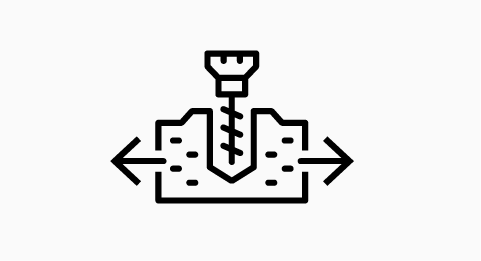 Extend existing deposits
The company has plans to drill gaps in Whistler's mineral resource model, with the aim of expanding the existing resource. There are several places this may be possible, with a lot of potential exploration upside waiting in the ground. It's easy to see how adding ounces could move the stock if the company is able to do so.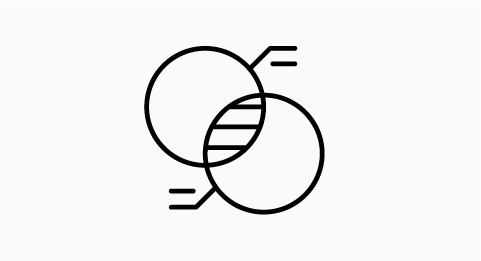 Test 'satellite' targets
Key to U.S. GoldMining's mission is to delineate the true size of Whistler's porphyry centers, and to test additional, known porphyry targets to determine whether they warrant further attention.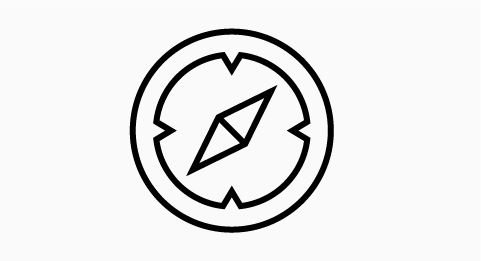 Look for new discoveries on the property
With the geology of the larger Whistler property, there could be brand-new discoveries just waiting to be uncovered.
Any of these four plans could have serious consequences for the value of Whistler, and in turn, the value of U.S. GoldMining.
Investors can expect many updates in the coming months, as the company moves forward with its goals. Any of these news releases could contain an item that changes the outlook of the company.
A tight share structure and skin in the game

In addition to a stellar project and team, U.S. GoldMining's capital structure is encouraging.
The company only has 14.2 million shares outstanding fully diluted, with 81% owned by its parent company, GoldMining Inc.—much of whose team overlaps with U.S. GoldMining's—and an additional 5% owned by insiders.
This skin in the game shows huge faith in U.S. GoldMining's ability to accomplish its mission, and is a key factor in any precious metals investment.
Ounces in the ground, catalysts on the horizon, and an A+ team—what more could you ask for?
Between the Whistler project, the company's management, and its big plans for the immediate future, we believe that U.S. GoldMining is well worth your attention today.
There's no telling what could happen with the company in the coming months and years, but it already has a world-class deposit. It already has incredible drill results and a strong resource estimate. It already is backed by a team that knows how to make things happen.
There's a reason the company has gotten so much attention lately: it's among the most exciting new gold companies to hit the sector in years.
We are looking at a huge investment opportunity, the kind that comes around rarely, and certainly not the type that waits around while investors make up their mind.
Consider adding U.S. GoldMining to your watchlist today, do your due diligence, and determine whether it's right for your portfolio sooner rather than later. You may be glad you did.
To learn more about U.S. GoldMining Inc. (NASDAQ: USGO)
Full Disclosure: U.S. Gold Mining Inc. is a paid sponsor of PrivatePlacements.com.
Disclaimer: The service and the contents are provided by the sender and other information providers on an "as is" basis. The sender and any and all other information providers expressly disclaim any and all warranties, express or implied any information herein or on PrivatePlacements.com.
PrivatePlacements.com and its and its owner and its owner's directors, employees, consultants, contractors, agents, and the like ("Representatives"), do not give any tax or investment advice; and do not advocate the purchase or sale of any security or investment. Contents are intended as general information. None of the contents constitutes an: (1) offer to sell or the solicitation of an offer to buy by Blender Media and/or its representatives any security or other investment; (2) offer by PrivatePlacements.com or its owner and/or their representatives to provide investment services of any kind; and/or (3) invitation, inducement, or encouragement by Blender Media and/or its representatives to any person to make any kind of investment decision. You should not rely on the content for investment or trading purposes. Securities or other investments referred to in any of the contents may not be suitable for you, and you should not make any kind of investment decision in relation to them without first obtaining independent investment advice from a person authorised to give it. All communications by PrivatePlacements.com are subject to its terms of use and disclaimer, which can be viewed here and here.