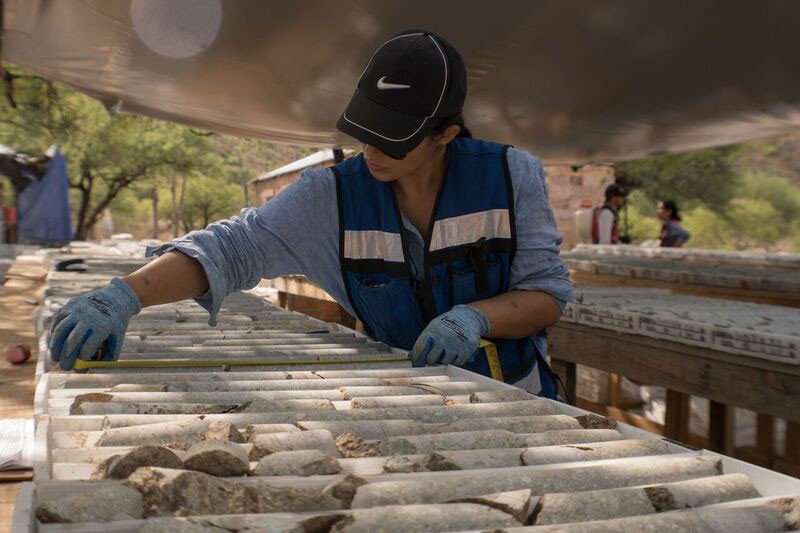 A SilverCrest employee reviewing core samples at Las Chispas, image courtesy SilverCrest Metals Inc. ©2020
Shares of silver miner SilverCrest Metals Inc. (TSX: SIL) jumped 95 cents on Monday following the company's announcement that it has entered into a $75 million non-brokered private placement.
The company plans to issue 10 million common shares at $7.50 each, with the option to increase the offering to 13.3 million shares for a total of $100 million. The deal is scheduled to close on April 17.
SilverCrest says it will use the proceeds raised by the offering for ongoing exploration and development at its Las Chispas project in Sonora, Mexico, where all work has been suspended until April 30 at the earliest due to COVID-19.
Shares of SilverCrest have been increased precipitously since the company released a preliminary economic assessment for Las Chispas last May, estimating an after-tax net present value for the deposit of US$407 million and an average annual production of 9.6 million silver-equivalent ounces. Before Las Chispas shut down to stave off the coronavirus, the company was busy drilling to expand the project, intercepting grades including 2.1 metres of 12,740 silver-equivalent grams per tonne (g/t AgEq), 16.11 metres of 3,375 g/t AgEq, and 2.5 metres of 6,931 g/t AgEq.
This is the second deal in just a few months for SilverCrest, following its $92 million bought deal back in December.
SilverCrest stock peaked at $10.61 per share in late February, only to collapse to $5.97 per share in the wake of the COVID-19 crisis. Since then, it has regained much of its momentum and is now trading at $8.65 per share.