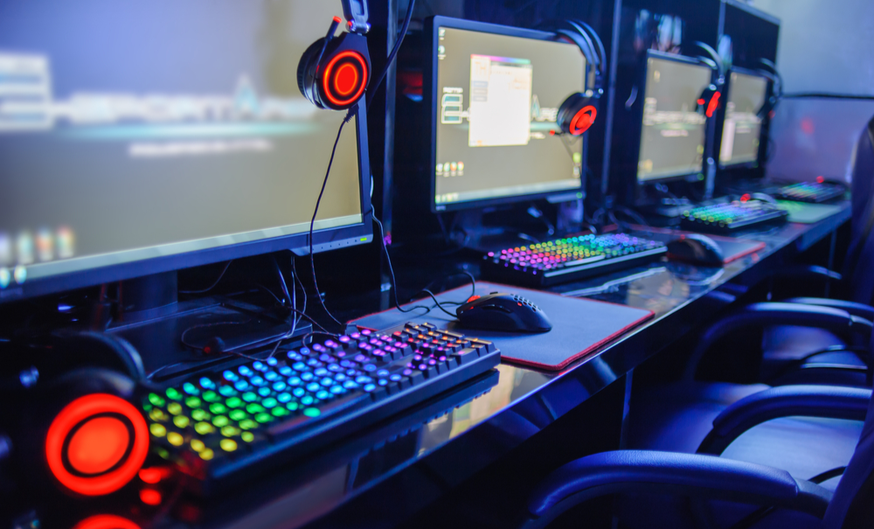 With Newzoo predicting $1.1 billion in global esports revenue in 2019, it's safe to say that the competitive gaming industry has landed. In the midst of a market projected to grow +26.7% year-over-year, the tired debate over whether teams of people playing video games onstage counts as a "real" sport seems pretty irrelevant. What is relevant is that demand is rising, and investors are putting esports stocks and markets on notice.
Propelled by a growing slate of popular titles, including standbys like League of Legends, Dota 2, Counter Strike, and Overwatch, esports viewership continually reaches new heights. Newzoo reports that the four biggest tournaments for those games alone garnered 190.1 million total hours streamed between Twitch and Youtube Gaming across 2018. Goldman Sachs estimates that by 2022, esports viewership will reach 300 million viewers. In fact, PwC's annual Sports Survey ranks esports as the sport with the most global growth potential, beating out soccer, football, and basketball alike.
However, despite its momentum, it's important to note that esports remains a budding industry. Pure play esports exposure is still more or less impossible, outside of a scant few up-and-coming VC funds. Yet there are still opportunities for early investors to get their foot in the door and cash in on the trend as it unfolds.
Esports stocks are a bet on the long game
Esports may be breaking records at $1.1 billion, but that revenue still represents less than a single percentage point of the larger, $138 billion video game industry. As Major League Gaming co-founder Mike Sepso tells The Motley Fool, "These are multibillion-dollars of revenue businesses, so in order for esports to be kind of meaningful, it has to be at least over 10% of the total revenue picture."
As Sepso puts it, we're "still several years away from that being the case." But with the market poised to grow by more than a quarter year-over-year, it seems only a matter of time before this rolling snowball becomes a full-blown avalanche.
The following esports stocks won't give you pure play access to competitive gaming revenue. That simply doesn't exist yet on the public market. Instead, they'll offer you a relatively stable entry point into the industry through the big players primed to monetize the millions upon millions of passionate esports fans.
Activision Blizzard, an industry titan and creator of esports staple Overwatch, struggled a bit last year in the wake of lower player engagement and games like Fortnite taking over a substantial chunk of the gaming pie. However, the company exceeded Q1 expectations, with CEO Bobby Kotick citing the "enduring appeal" created by esports franchises as a primary driver for success.
Activision Blizzard may seem like any other gaming company attempting to capitalize on esports, but they have a unique approach, not to mention a keen dedication to monetizing the space. Their popular Overwatch League (OWL) is often touted as the future of esports, with its distributed city-based system that mirrors the structure of regular sports, featuring teams like the LA Valiant or the Vancouver Titans set to be competing in traditional, scheduled "home" and "away" games in 2020. In less than three years, the company has generated upwards of $500 million solely through selling these franchises. As viewership for the OWL climbs, big-ticket advertisers like Coca Cola, Anheuser-Busch Inbev, and State Farm continue to invest, indicating a long-term faith in esports investment on both sides.
True, 2019 adjusted revenue for the company down, projected at $6.3 billion, compared to the $7.3 billion in 2018. But with new content slated for Overwatch and firm commitment to esports, many expect the company to do much more than recover in the coming years.
Chinese multimedia conglomerate Tencent is the largest video game company in the world by revenue, and is expected to account for a third of global video game revenue this year. They also happen to own Riot Games, creators of foundational esports title League of Legends, as well as a 40% share in Epic Games, developers of the worldwide cultural phenomenon Fortnite.
Their League of Legends Championship Series is one of the first and biggest esports leagues on the planet, boasting nearly 100 million unique viewers in the 2018 finals, with sponsorship from numerous massive corporations, including a $7.5 million annual deal with Nike. Their China-based league for mobile game Honour of Kings is lesser known in North America, but nonetheless manages to secure sponsorships from companies like McDonald's, Mars, and Volkswagen.
There's no denying that Tencent's future is tied to esports. Unfortunately, the company's stock has lagged in response to the Chinese government's months-long moratorium on new game approvals, and is expected to suffer during the US-China trade war. Experts are conflicted about the viability of Tencent stock. But if you're looking for exposure to an enormous, largely untapped future esports market and an already-dominant western force, Tencent is the one to watch.