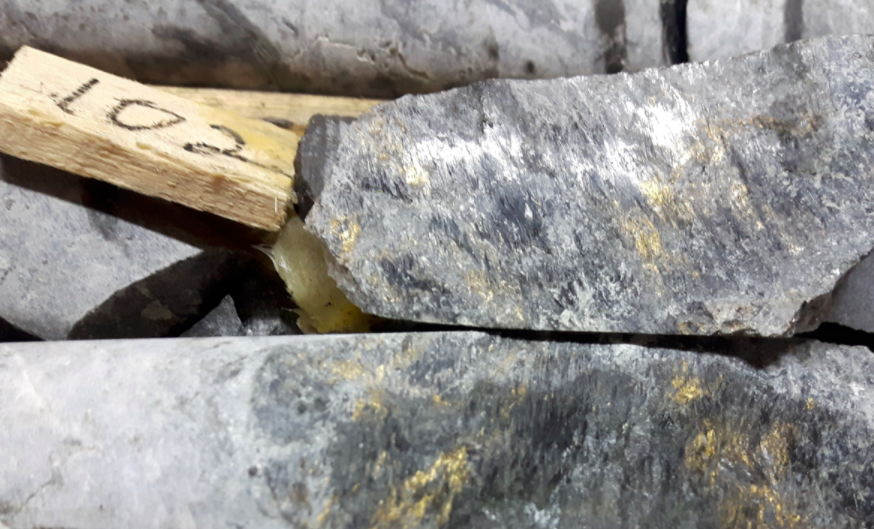 Image: Drill cores from Galway Metals, courtesy Galway Metals Inc. ©2020
Shares of gold explorer Galway Metals Inc. (TSX-V: GWM) jumped 7 cents on 2.7 million shares on Wednesday following the company's announcement of an upsized $17.35 million combo financing.
Galway plans to issue up to 17.88 million flow-through shares at 63.5 cents each, and up to 13.63 million "hard dollar" common shares at 44 cents each. The deal is underwritten by a syndicate led by Paradigm Capital Inc. and including Laurentian Bank Securities Inc.
Billionaire mining investor Eric Sprott has agreed to purchase $3 million in shares from the offering, increasing his stake in Galway to approximately 3.8%.
Proceeds from the flow-through shares will be used to incur "flow-through" qualifying mining expenditures, while the rest of the proceeds will be used for ongoing exploration and working capital.
Galway Metals owns two gold properties in Canada: the Clarence Stream project in New Brunswick, and the Estrades project, a formerly producing gold mine in Quebec. On Monday, shares of the company got a boost following its report of drill results from the west end of the Richard Zone at Clarence Stream, hitting grades including 6.2 grams of gold per tonne (g/t Au) over 38.5 metres and 10.6 g/t Au over 47.0 metres—the highest grades yet from the deposit. A 2017 resource estimate for the project pegged the resource at 390,000 ounces of gold measured and indicated and 277,000 ounces inferred.
At Estrades, Galway recently drilled 5.2 g/t Au and 19.6% zinc over 5.65 metres. The most recent resource estimate for that project, filed in 2018, places the resource at 543,051 gold-equivalent ounces indicated, and 520,430 ounces inferred.
Galway is led by CEO and founder Robert Hinchcliffe, who previously founded and steered Galway Resources Ltd. to $340 million buyout by AUX Acquisition in 2012. Shares of the company are up 70.15% year-to-date to 57 cents per share.