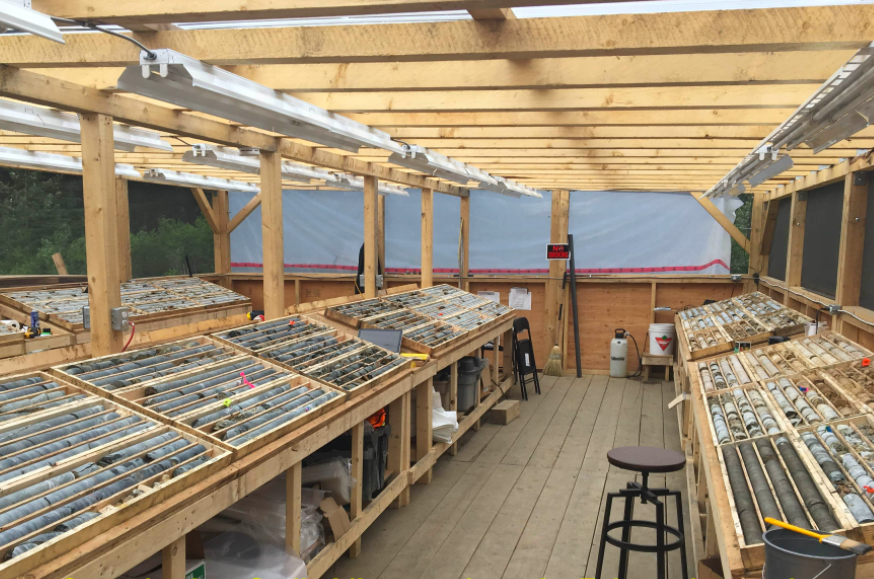 Image: Core shack near Nickel Mountain, courtesy Garibaldi Resources Corp. ©2020
Shares of Garibaldi Resources Corp. (TSX-V: GGI) rose 7 cents Tuesday on 944,000 shares after the company announced new grab samples from its Casper project in northwest British Columbia.
The company sampled a number of rocks from the gold quartz vein system, returning assays including 249.00 grams of gold per tonne (g/t Au), 76.90 g/t Au, 75.30 g/t Au and 70.15 g/t Au.
"Even at this early stage, it's remarkable to see such consistent elevated gold grades in a quartz vein extending more than 120 meters that remains open," Jeremy Hanson, Garibaldi's vice president of exploration, said in the release. "The recent discovery of additional mineralized veins is extremely encouraging, especially with visible gold. Casper is certainly living up to the enthusiasm generated by its initial discovery."
Garibaldi first discovered the Casper vein system back in February, north of its flagship Nickel Mountain property and close to its mining camps at a low elevation.. It initially hoped to begin drilling the deposit back in spring, but now says the next step is to use its recent channel and grab samples to plan drill targets and additional trenching for later in 2020.
When last we checked in on Garibaldi Resources last year, the company was reporting solid drill results from its Nickel Mountain project. It began drilling that project again in June, though has yet to report any results just yet.
Shares of Garibaldi are down 40 cents to 58 cents per share year-to-date.