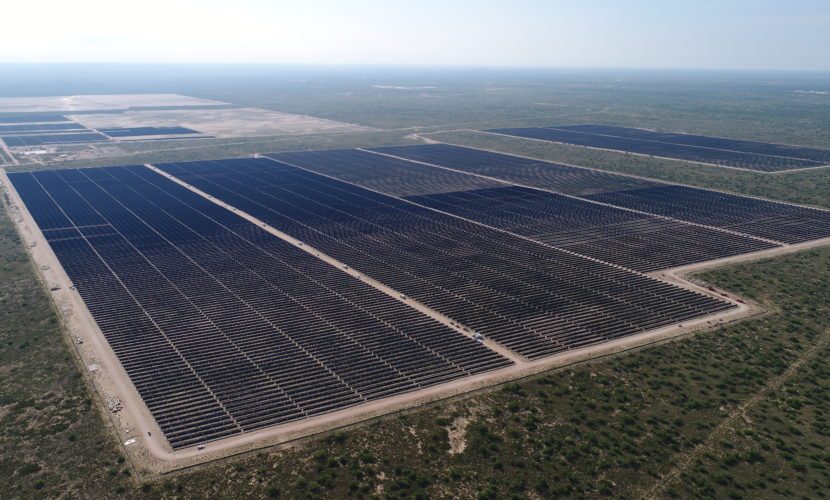 Innergex's Phoebe solar farm, Source: innergex.com/sites/phoebe/
Canadian green energy provider Innergex Renewable Energy Inc. (TSX: INE) announced Thursday that it has entered into a strategic partnership with Hydro-Québec, accompanied by a $661 million private placement.
Under the terms of the private placement, Hydro-Québec is buying 34.6 million Innergex common shares at $19.08 per share, at a 5% premium to the stock's 30-day volume-weighted average price. The investment will result in Hydro-Québec holding 19.9% of Innergex's total shares. Innergex has also granted Hydro-Québec the option to nominate two candidates to its board of directors.
Innergex plans to use $50 million of the proceeds toward the ongoing development of its 200-megawatt solar voltaic project in Ohio, which is expected to finish up by Q4 of 2020, and for which the company signed a long-term power purchase agreement back in November. $275 million is earmarked for the potential purchase of two already-operational plants in the US and Chile, while $70 million is slated to fund the company's recent acquisition of 125 megawatts of solar panels to qualify for a 30% tax credit from the US. The remaining $266 million will be used for working capital and to repay existing debts.
Shares of Innergex began to climb mid-2019, not long after the company sold its stake in its subsidiary Magma Energy Sweden A.B. for $402.2 million and announced plans for a 7.5-megawatt hydroelectric generating station on the Inukjuak river. The stock continued to rise amid the company starting up commercial operations at a 350-megawatt wind farm in Texas, a deal to co-develop wind projects in France with Vent d'Est, and the aforementioned agreement in Ohio.
Innergex recently received another boost when the Globe and Mail reported that BMO Nesbitt Burns analyst Ben Pham had upgraded the company to "outperform" up from "market perform" with a $20 price target. But by far the biggest jump came when the company revealed its partnership with Hydro-Québec, driving shares up $2.14 in a single day to $21.04 per share.