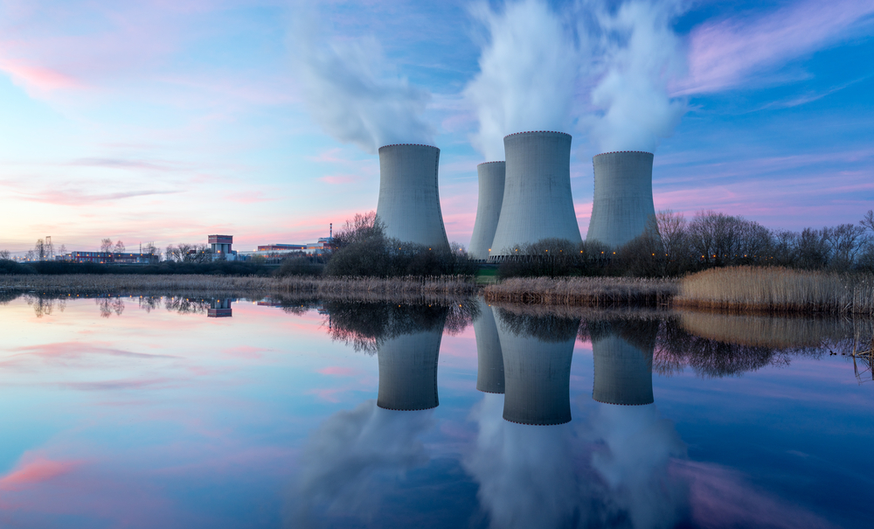 Source: vlastas, Shutterstock.com
After a long bear market, Uranium investors are awaiting a potential breakout moment that's been in the workings for years—and we're helping them get ready with a new report dropping tomorrow.
There are numerous reasons why uranium has been having a moment, but at the heart of the story is a classic supply and demand thesis.
The US Energy and Information Administration anticipates that the consumption of electricity across the globe will increase by 50% by 2050. But current energy facilities in the US and abroad are not currently prepared to supply this tremendous jump without adding additional infrastructure.
Meanwhile, world governments are increasingly mandating clean energy as they scramble to meet targets outlined in the Paris Agreement. This means that alongside that 50% jump in electricity consumption, it's expected that the bulk of this increase will come from renewable sources.
US President Joe Biden has announced a slate of ambitious climate targets, including cutting US carbon emissions in half by 2030, and transitioning to a net-zero economy by 2050. But there's some question around where the country will source all that green power.
Combined with hydroelectric, solar and wind now produce more energy than coal, accounting for some 20% of the country's electricity today. But even this massive growth still falls short of the colossal overhaul necessary to tackle the climate emergency.
Which is where nuclear power comes in. With a carbon footprint equivalent to wind and less than solar, and lower land requirements than either, nuclear energy currently supplies another fifth of US electricity.
A Uniquely Supportive Administration
The Biden administration has voiced strong support for nuclear power. Energy Secretary Jennifer Granholm told the Washington Examiner that Biden backs subsidies to keep flagging nuclear plants running.
"We are not going to be able to achieve our climate goals if nuclear power plants shut down," she said. "We have to find ways to keep them operating."
Today, the US is building its first new nuclear reactors in years. Plant Vogtle, a nuclear plant on the South Carolina-Georgia Border, is getting two new pressurized water reactors to complement its existing two.
And nuclear power is part of Biden's enormous US$2 trillion American Jobs infrastructure plan. His proposal to establish an Energy Efficiency and Clean Energy Standard to incentivize more efficient electricity use includes a clause about aiming to leverage carbon-free mediums "like nuclear and hydropower."
What's more, the plan aims to invest US$15 billion in climate R&D, including advanced nuclear tech, an area ripe for innovation that has been sorely underfunded during nuclear's long period of stagnation.
The Nuclear Innovation Alliance cheered Biden's plan, saying with Executive Director Judi Greenwald saying "Among broader energy sector investments, the plan would support the development and demonstration of advanced nuclear energy, a clean energy technology critical not only for meeting mid-century climate goals but for ensuring a more resilient energy infrastructure in the decades to come."
And that's just in the US. As of late April, there were 53 nuclear reactors under construction across the globe, and many more planned. China has announced intentions to triple its nuclear capacity by 2030. India plans to build 21 reactors by 2031. And Rosatom, the state-owned Russian nuclear company and one of the biggest nuclear providers in the world, says it has secured over 30 reactor supply deals with countries from Finland to Turkey.
At uranium's current price ($32.30 at the time of writing), only just over 60 million pounds of uranium production is economical, in comparison to the roughly 175 million pounds needed annually to keep reactors operational.
But prices have risen over 2021, and today sit at levels not seen since August 2020.
That said, there are serious questions around cost—nuclear power plants are notoriously expensive to build in the US, leading many to argue that they likely won't be a significant component of the country's green energy plan. But again, the words of the Biden administration seem to indicate otherwise, and with subsidies supporting the industry, the outlook looks much sunnier.
All in all, it's an exciting time to be a uranium investor—a statement that hasn't been true in quite some time.
Which is why we're excited to announce our latest free PrivatePlacements.com offering: the Uranium Review.
Introducing the Uranium Review
The Uranium Review is a new, free report coming tomorrow from PrivatePlacements.com, that tracks the flow of capital across the Canadian uranium industry.
The report will cover everything you need to know about financings from uranium companies:
Top financings by dollar amount, exchange, equity, and debt
Leading warrants exercised in the money
The most-financed uranium mining districts
Where proceeds are being used
...and much more!
Savvy investors will use this information to stay abreast of the uranium market, tracking trends in the sector, keeping an eye on buzzworthy players, and most importantly, finding private placements to invest in ahead of the potential uranium turnaround.
As always, private placements are the best way to invest in the uranium market, and the Uranium Report is the best way to stay informed.
Keep an eye out for the Uranium Report tomorrow, and prepare yourself for one of the most exciting uranium markets in years.