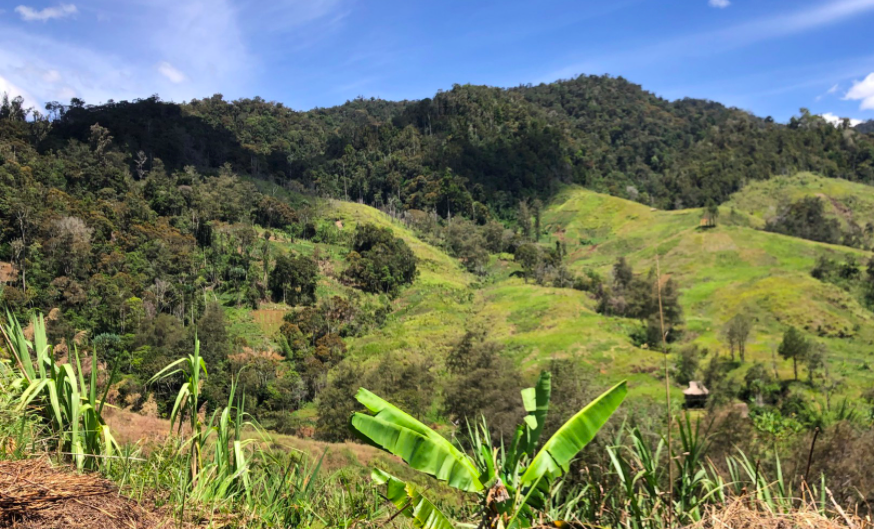 Image: KRL's Tirokave target, image courtesy Kainantu Resources Ltd. ©2021
Shares of under-the-radar Asia-Pacific-focused gold junior Kainantu Resources Ltd. (TSX-V: KRL) are nearing an all-time high on Tuesday following the company's latest sampling results from its KRL South project last Thursday.
The company conducted ridge-and-spur auger sampling at the Tirokave target of KRL South, located in the Eastern Highlands province of Papua New Guinea about 30 kilometres away from K92 Mining Inc.'s (TSX: KNT) producing Kainantu Mine. The exploration campaign revealed three discrete prospects: East Avaninofi, Yaoro Ridge, and Kerefa. Rock sampling results came back with 40 g/t Au at East Avaninofi.
Kainantu says that the mapping and sampling activities indicate "strong similarities" between KRL South and other successful mining operations on the Bilimoria mineral field, including K92's mine.
"Building on earlier work, I am pleased to report that KRL's focused exploration programme has resulted in us defining three prospects in a relatively short period of time," KRL CEO Matthew Salthouse said in the release. "Located in the Tirokave area at the centre of our KRL South project, all prospects display widespread epithermal mineralisation and will remain a key focus for the Company[,] with further progress to be reported in coming months. On meeting this initial milestone, KRL's focus remains on identifying drilling targets in these areas in the near term."
Shares of Kainantu Resources restarted trading after it changed its name from PLB Capital back in December, rising to an all-time high of 39.5 cents soon after on the heels of public support from Papua New Guinea's Prime Minister. The stock fell and then rose again as exploration continued at KRL North and South. Recently, the company filed its Q1 results, with a closing cash position of $3.54 million as of Feb. 28.
Shares of KRL closed at 36 cents per share on Tuesday. To read more about the company, check out our comprehensive report here.