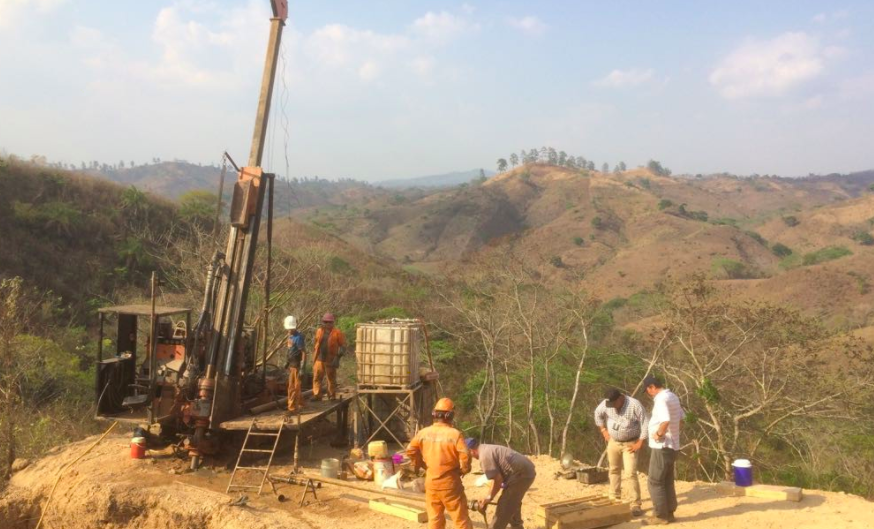 Image: Exploration at San Albino, courtest Mako Mining Inc. ©2020
Shares of Mako Mining Corp. (TSX-V: MKO) rose 5 cents on 1.7 million shares Wednesday after the junior gold miner announced a new round of encouraging assays from its San Albino project in Nueva Segovia, Nicaragua.
The release highlighted two drill holes in particular, designed to test the continuation of mineralization encountered in a tunnel from which previous assays hit around 30 grams of gold per tonne (g/t Au). The first hole intersected 30.27 g/t Au and 31.2 g/t Au over 5.5 metres, testing the "surface expression" of the aforementioned tunnel vein. The second hole, about 36 metres north of the first, hit grades including 63.10 g/t Au and 46.4 g/t Au over 2.15 metres, and 28.40 g/t Au and 33.3 g/t Au over 1.0 metres.
So far, the company has conducted close to 5500 metres of drilling on the property's Arras Zone, spread across 134 holes, with the goal of "augmet[ing] the initial phase of mining at the West pit." Mako also announced that mining has resumed at the West pit, after a period of suspension due to COVID-19.
CEO Akiba Leisman cheered the news, saying, it was "encouraging to see positive results from drilling in the Arras Zone because the zone is not as well advanced as the zones within the West pit, where the bulk of the infill program was focused last year, and where initial mining has recommenced. Today's results and those to follow have the potential of improving the already robust San Albino gold project by bringing in high-grade and near surface ounces into the mine plan earlier than anticipated."
Mako estimates that the San Albino project contains an indicated mineral resource of 150,400 ounces of gold at 7.13 g/t Au, and an inferred resource of 192,000 ounces of gold at 6.78 g/t Au. Since announcing the latest assays, shares are up 13% to 43.5 cents per share.