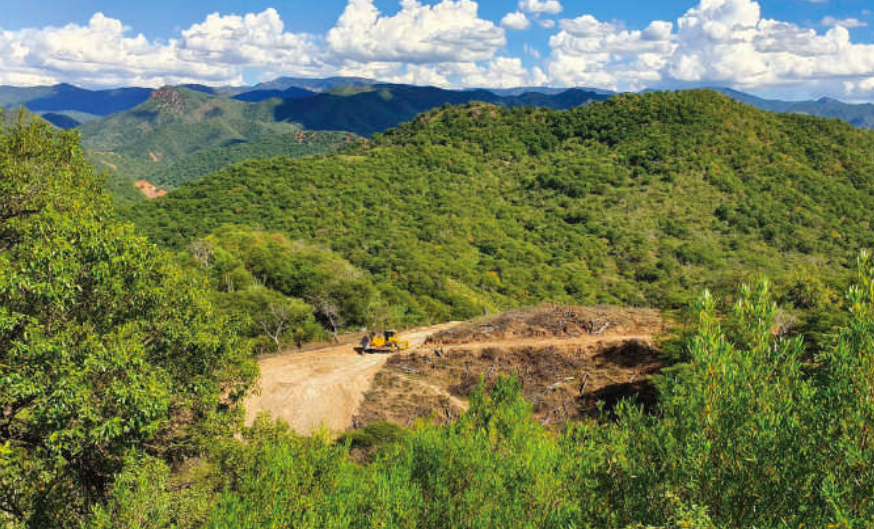 Image: Minera Alamos' Santana project, courtesy Minera Alamos Inc. ©2020
Mid-stage gold miners Minera Alamos Inc. (TSX-V: MAI) announced a $10 million bought deal private placement on Tuesday to fund ongoing construction at its Santana gold project.
National Bank Financial Inc. has agreed to purchase 15.87 million common shares at 63 cents each, a 9-cent discount to its current 72-cent trading price. Minera Alamos has also granted NBF an over-allotment option to buy up to another 2.38 million shares any prior to the closing of the offering, expected on or about Sept. 3.
The company says it will use the proceeds toward the development of the aforementioned Santana gold project in Sonora, Mexico, for other exploration efforts in Mexico, and for general corporate purposes.
Minera Alamos recently gave an update on construction at the Santana open-pit heap leach mine, which was delayed due to COVID-19 but now is expected to conclude near the end of 2020. The company plans to release a maiden resource estimate for the project in late 2020 as well. Back in June, it also reported another round of drill results from last year's phase 2 drill program at Santana, which came back with a number of low, but wide grades including 202.7 metres of 0.51 grams of gold per tonne (g/t Au).
Early in August, Minera Alamos also firmed up plans to acquire the Cerro de Oro gold project in Zacetecas, Mexico, expanding its claims in the Concepcion del Oro region to 6,500 hectares. In the release, CEO Darrin Koningen said that the project "has many characteristics that mimic the El Castillo gold mine" that the Minera team developed as Castle Gold and sold to Argonaut Gold in 2009 for $130 million.
At the time of writing, shares of Minera Alamos are up 42 cents to 72 cents per share.