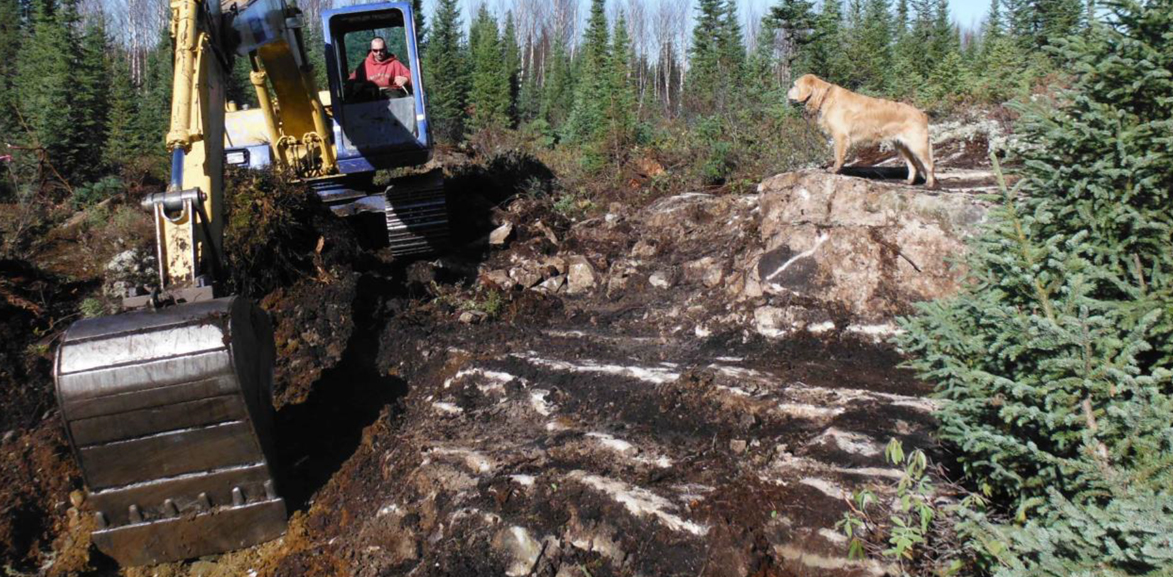 Trenching on the Lac Surprise property in 2014, image courtesy Northern Superior Resources Inc. ©2020
Thursday was one of the worst days for Canadian markets in history, but that didn't stop a few companies from announcing new private placements. The biggest came from Ontario-based junior miner Northern Superior Resources Inc. (TSX-V: SUP), which announced a minimum $3.6 million flow-through private placement for continued exploration at its Lac Surprise and Croteau Est properties in Quebec.
The financing is broken up into two parts. The first is the issuance of a minimum of 8 million charity flow-through shares priced at 36.25 cents each for a total of $2.9 million, and the second a minimum of 2.8 million common shares at 25 cents each for a total of $700,000. Northern Superior says it may decide to increase the offering by up to $1.9 million, which would kick the overall total up to $5.5 million.
As previously mentioned, proceeds will go toward incurring flow-through expenditures and toward the company's Lac Suprise and/or Croteau Est gold properties, both located in the historic Chapais-Chibougamau mining camp in west-central Quebec.
Northern Superior completed a 12 hole 4,400-metre drill program at Lac Surprise in October, defining two new gold-bearing systems on the property and intercepting grades including 1.54 grams of gold per tonne (g/t Au) over 15.15 metres, its best result. Lac Surprise is adjacent to IAMGOLD Corp.'s (TSX: IMG) Nelligan Gold Project, which a recent 43-101 resource estimate pegged at 3.2 million ounces of gold inferred. Northern Superior says that this latest round of drilling confirms that the Lac Surprise mineralization contains an extension of Nelligan's Renard deposit to the northeast.
We haven't heard much about the Croteau Est property in awhile. In its most recent update on the deposit, Northern Superior noted an inferred mineral resource of 640,000 ounces of gold, an estimate derived from 64 drill holes on the property.
Shares of Northern Superior received a 6-cent boost after financial analyst Michael Gentile increased his ownership of the company to 19.9% via a $437,000 private placement and joined the board of directors. Since then, the stock has risen another 7 cents to 20 cents per share, including a 2-cent drop Thursday.