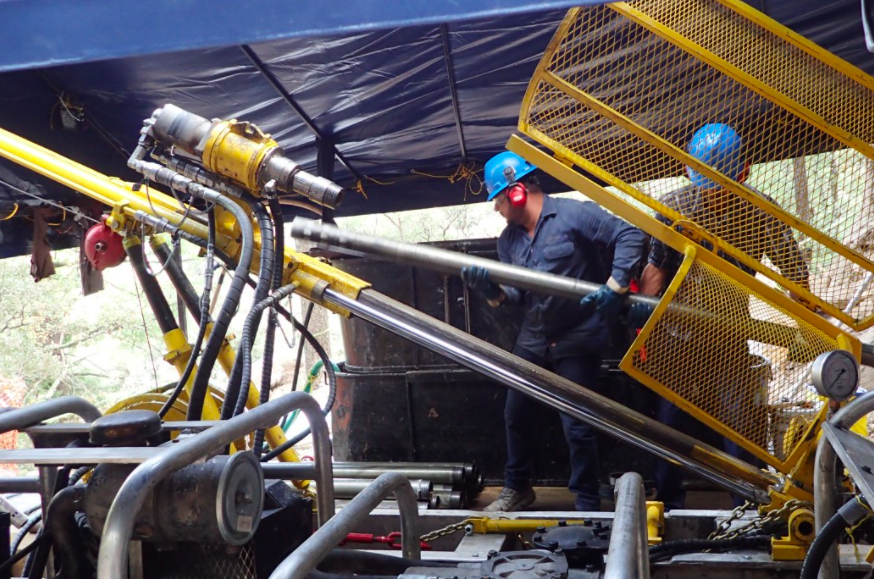 Pictured: drilling at the El Tiger project, image courtesy Silver Tiger Metals Inc. ©2020
Shares of junior silver miners Silver Tiger Metals Inc. (TSX-V: SLVR) spiked in volume Thursday after the company announced the latest drill results from its ongoing exploration program at the El Tigre project in Sonora, Mexico.
The results came from the first 10 drill holes at the project's Protectora and Caleigh veins, 1.7 kilometres north of the past-producing El Tigre mine. The highlight of the release was the company's intersection of 0.5 metres grading 2,049.1 silver-equivalent grams per tonne (g/t AgEq) on the Protectora vein, as well as a second 0.5-metre interval from the same hole grading 1,440.6 g/t AgEq. Other notable results included 0.5 metres of 1,592.5 g/t AgEq, also from the Protectora vein, and 0.7 metres of 1,121.6 g/t AgEq and 0.3 metres of 1,284.0 g/t AgEq from the Caleigh vein.
Silver Tiger CEO Glenn Jessome was pleased with the results, saying that the company's initial results from the 25,000-metre 2020 drill program "intersected near-surface high-grade silver mineralization similar to that mined a century ago at the historic El Tigre Mine," which he says produced over 100 million silver-equivalent ounces from 1908 to 1938. He adds that the company currently has three drill rigs running on the property and plans to continue to test the strike length of the Caleigh, Protectora, and Fundadora veins.
Following a previous 12,500-metre drill program, Silver Tiger delivered a maiden resource estimate for El Tigre, with an indicated 660,000 gold-equivalent ounces and 341,000 gold-equivalent ounces inferred. The property encompasses 28,414 hectares along the Sierra Madre silver belt, which has been attracting investment from a number of prominent miners in 2020.
We last wrote about Silver Tiger in one of our weekly top financings roundups from July, when it secured an $11 million private placement to fund the current exploration. Since then, shares of the company have risen 8 cents, closing at 56 cents per share on Tuesday afternoon.