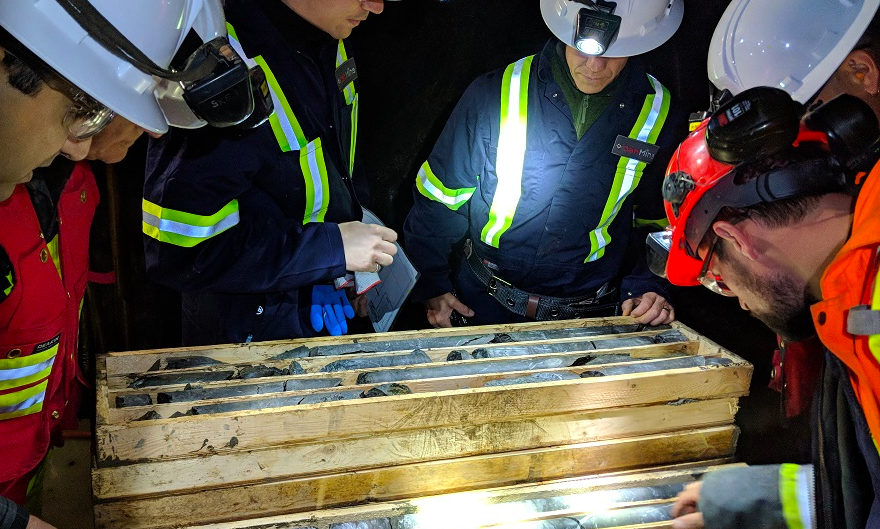 Image: Underground cores from Snip, courtesy Skeena Resources Limited ©2020
Shares of Skeena Resources Limited (TSX-V: SKE) jumped 36 cents on 2.2 million shares Tuesday following the company's announcement of its first mineral resource estimate for the Snip gold project in northwest British Columbia.
The underground-constrained report estimates that Snip hosts an indicated 539,000 tonnes of ore grading an average of 14 grams of gold per tonne (g/t Au) for a total of 244,000 ounces of gold, and an inferred 942,000 tonnes of ore grading 13.3 g/t Au fora total of 402,000 ounces of gold.
"We are very excited about the maiden resource at Snip, particularly because of the excellent grade and the proximity to Eskay Creek," Skeena CEO Walter Coles said in the release. "We will commence drilling at Snip shortly to follow-up on the exciting exploration success from last summer in an effort to expand the resource."
Skeena reported the last results of its 1,934-metre 2019 drill program at Snip in a pair of releases in December and January. The company hit grades including 1.50 metres of 1,131.91 g/t Au, 5.10 metres of 16.64 g/t Au, 0.65 metres of 57.90 g/t Au, and 1.35 metres of 12.00 g/t Au in the program, which was designed to test the 200 Footwall target. Paul Geddes, Skeena's vice president of exploration and resource development, says the company will be drilling to expand the resource as the next move.
Meanwhile, most of Skeena's 2020 drill results have been for Eskay Creek, the company's flagship project located not far from Snip. The company announced that it would be acquiring 100% of Eskay Creek from Barrick Gold Corp. (TSX: ABX) earlier this month, and began another large drill program at the project in late June.
At the time of writing, shares of Skeena are up 336.8% in 2020 to $2.97 per share.