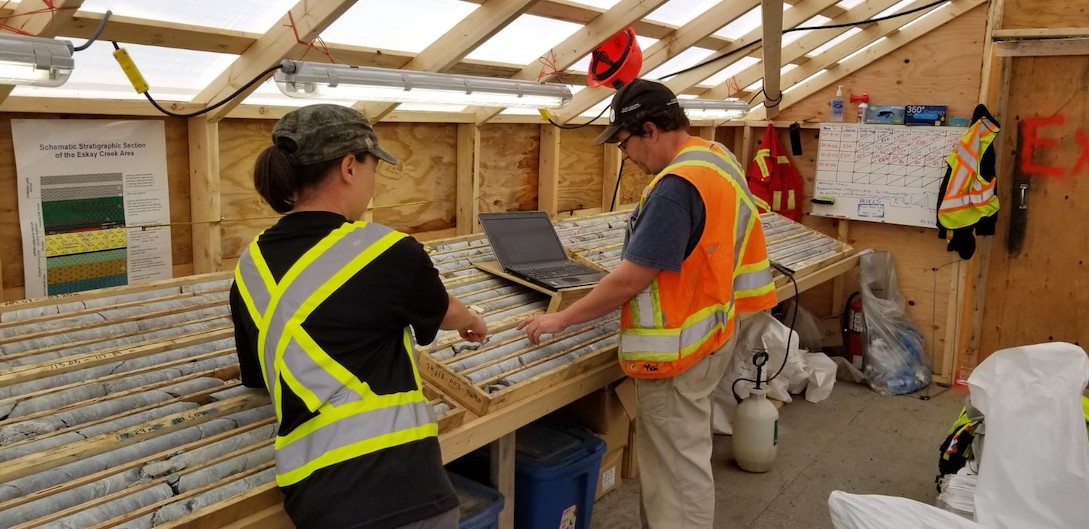 Eskay Creek Core Shack, Image courtesy Skeena Resources ©2020
Skeena Resources Inc. (TSX-V: SKE) announced a $20 million flow-through, bought deal private placement Tuesday to fund ongoing exploration at its projects in the Golden Triangle of British Columbia.
The Vancouver-based gold and silver junior will issue 17.32 million flow-through shares at $1.155 per share in the fully-subscribed, non-brokered deal, which is expected to close by April 15.
Skeena Resources says proceeds will go toward exploration at its Eskay Creek, and Snip projects in northwestern British Columbia, both optioned from Barrick Gold Inc. (TSX: ABX) in 2017.
The company released an updated NI 43-101 preliminary economic assessment for Eskay Creek back in November that pegged the resource with an after-tax net present value of $638 million, supporting an open-pit mine averaging 3.23 grams of gold per tonne (g/t Au) and 78 grams per tonne silver (g/t Ag) per day. Skeena has been steadily drilling the project since August and has recently intercepted grades including 11.53 g/t Au and 247 g/t Ag over 31.30 metres and 15.02 g/t Au and 70 g/t Ag over 18.26 metres at the deposit's 21A zone, and 13.24 g/t Au and 701 g/t Ag over 14.33 metres at the HW zone.
Skeena released the first round of results from its phase 1 1,934-metre surface drilling program at Snip in December, hitting grades including a whopping 1,131.91 g/t Au over 1.5 metres, and the remaining results at the beginning of 2020, with grades including 16.64 g/t Au over 5.10 metres and 57.90 g/t Au over 0.65 metres at the 200 Footwall target. Skeena's modelling indicates that drilling for 200 Footwall wasn't deep enough for adequate testing, so plans to go deeper in future exploration.
Skeena also recently announced that it had entered into an agreement to sell its GJ copper-gold property to Newcrest Red Chris Mining Limited for $7.5 million in cash, giving its stock a small boost.
Skeena Resources has been led by CEO Walter Coles since 2014, who was previously the vice president of Virginia Uranium Inc. and an associate director at UBS Investment Bank. Its chairman is Craig Parry, a geologist who currently serves as the CEO and president of uranium junior IsoEnergy Ltd. (TSX-V: ISO) and as senior advisor and co-founder of NexGen Energy Ltd. (TSX: NXE).
Since announcing the private placement, shares of Skeena have risen 6 cents to 87 cents per share. The stock is up 16% so far for 2020.