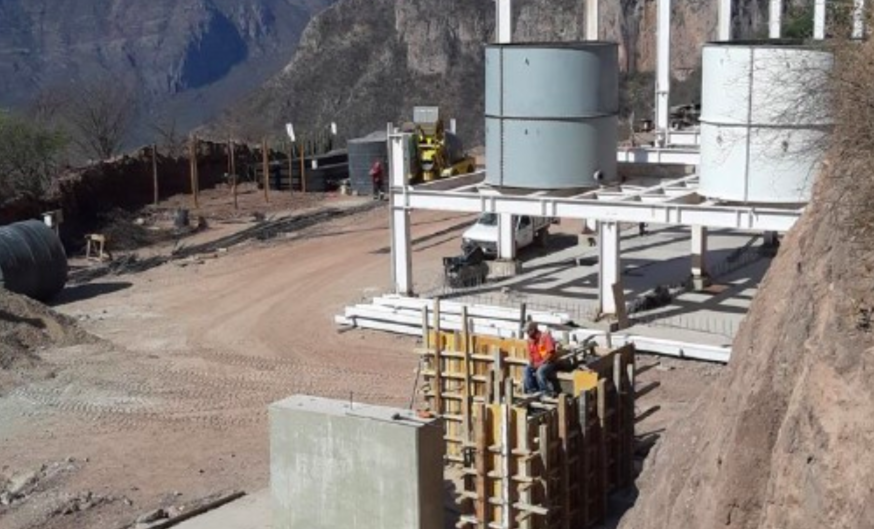 Construction of the Tahuehueto mill, image courtesy Telson Mining ©2021
Shares of Telson Mining Inc. (TSX-V: TSN) rose 5 cents today after the company announced a $25 million financing to complete the construction of its Tahuehueto gold mine.
The financing is split into three prongs: Accendo Banco S.A. de C.V. has agreed to offer a US$12 million loan facility, Empress Royalty Corp. will provide US$5 million in a stream agreement, and Endeavour Financial/Accendo Banco will arrange a non-brokered private placement of special units for up to US$8 million. Each of the 50.4 million units will cost $0.20, and come with a half-warrant, with full warrants exercisable at $0.30.
Telson says that capital expenditures for construction and commissioning of the Tahuehueto mine will require an estimated $15.4 million, which includes US$12.6 million for equipment and building with a 15% contingency, plus US$2.8 million of working capital to keep the mine running until it achieves positive cash flow. Construction will begin upon the closing of the non-brokered placement.
The Tahuehueto project is located on the Sierra Madre mineral belt in Mexico, with a measured and indicated 487,000 ounces of gold at an average grade of 2.48 g/t Au, 41,000 pounds of copper, 162,000 pounds of lead, and 296,000 pounds of zinc. Telson aims to complete the mine within six to eight months, after which it is designed to process more than 1,000 tonnes of a day.
Telson Mining has already been producing base metals at its Campo Morado mine in Guererro, extracting 9,974 tonnes of zinc concentrate and 1,916 tonnes of lead concentrate in Q4 2020.
Telson stock has been up and down for the past couple of months, though following the latest news, it jumped 25% to close at 25 cents per share on Tuesday.