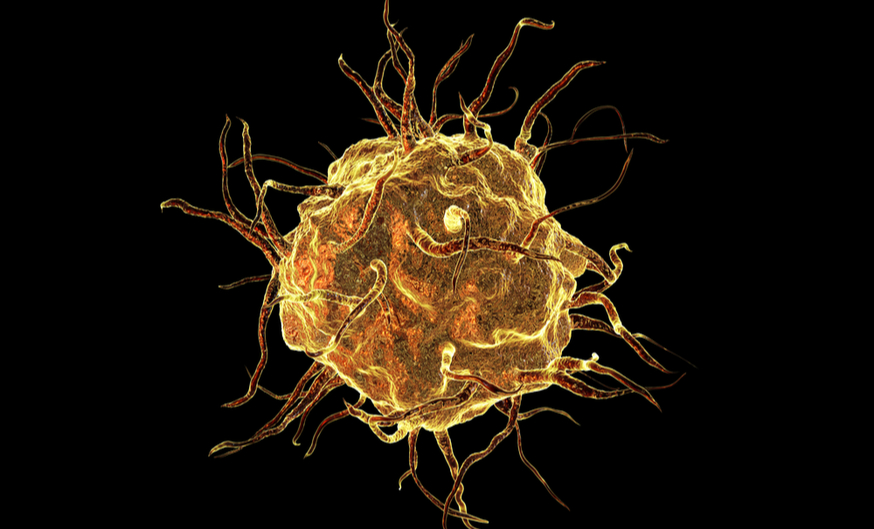 A simulated image of a macrophage. Source: Kateryna Kon, Shutterstock.com
Massachusetts-based clinical-stage cancer pharmaceutical developer Trillium Therapeutics Inc. (TSX: TRIL; NASDAQ: TRIL) announced the pricing of its massive US$101 million public offering Thursday, driving shares up almost 30% on both US and Canadian markets (all dollar amounts in this article are USD unless otherwise specified).
The company plans to issue 35.73 million common shares and 1.25 million non-voting convertible preferred shares at $2.75 each, along with an over-allotment option for the underwriters to purchase an additional 5.55 million common shares for 30 days. The preferred shares are only being offered to investors whose purchase of common shares through the offering would result in the investor owning more than 4.99% of Trillium's total outstanding shares. The deal is expected to close on Jan. 28, and is facilitated by Cowen and Co.
Trillium plans to use the proceeds toward the clinical development of its flagship CD47 program, for research, manufacturing, and regulatory efforts, and for working capital.
As Trillium explains it, CD47 is a molecule that acts as a "do not eat" signal to macrophages, which Trillium believes is a mechanism by which malignant cancer cells avoid natural destruction by the immune system. The core of Trillium's anti-cancer approach lies in blocking CD47 through the proteins TTI-621 and TTI-622, thereby theoretically promoting the immune system's anti-tumor capabilities.
The company recently provided an update on its ongoing studies of TTI-621 and TTI-622, the former of which Trillium president and chief executive officer Dr. Jan Skvarka says "continues to demonstrate clear single agent activity" in the inhibition of CD47, with a combination study anticipated for later this year. TTI-621 is currently being studied in patients "with advanced relapsed or refractory hematologic malignancies" while TTI-662 is being measured in patients with lymphoma and myeloma. The latter compound has so far resulted in "a partial response." Both studies are in the dose-escalation phase, during which the dose is steadily increased in the study cohort to determine the safety and tolerability of the drug, with the goal of pinpointing the maximum tolerated dose.
US-listed shares of Trillium began to climb precipitously beginning in December, rising from just 32 cents per share to its current price of $4.22. It seems with the studies of TTI-621 and TTI-622 moving along, the prospect of Trillium as the potential developer of two promising cancer-fighting drugs is catching on with investors.
On Thursday alone, following the announcement of the financing, the stock jumped 95 cents.