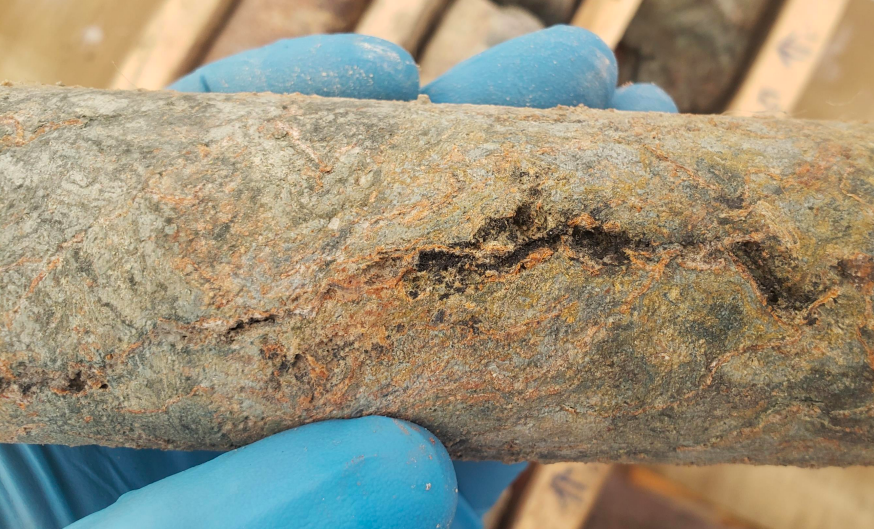 Image courtesy of Baseload Energy Corp. ©2021
Shares of uranium exploration company Baseload Energy Corp. (TSX-V: FIND) rose 9 cents or 11.1% on Monday after the company announced new assay results from its Hook project in Saskatchewan's prolific Athabasca Basin.
The company intersected a half-metre interval of 1.29 wt% uranium and a 0.66-metre interval of 0.66 wt% uranium within the same 15-metre interval at depth, both solid results that have undoubtedly encouraged investors. This was the first drill hole from the Hook project's recent ACKIO discovery.
"We are very excited with the confirmation of high-grade Uranium at ACKIO," Baseload CEO and president James Sykes said in the release. "The ACKIO discovery is beginning to take shape; with high-grade Uranium intersected near-surface, multiple and widespread zones of mineralization, and an alteration halo that exceeds over 230 m which is suggestive of a massive structurally-controlled fluid system. We are still in the early days of exploring and learning more about ACKIO but these assay results from AK21-01 have provided us with invaluable information to help us plan our next steps accordingly."
The company added that it plans to release a video that will "provide encouraging comparisons" with other Athabasca Basin uranium deposits, including NexGen Energy's (TSX: NXE) Arrow deposit and Denison Mines' (TSX: DML) Gryphon deposit.
If you follow uranium, you know that potent discoveries on the Athabasca Basin—which is home to the biggest uranium mines in the world and numerous up-and-coming discovery prospects—are typically worth paying attention to. It seems that in the midst of what remains a strong uranium market, Baseload is building exploration momentum.