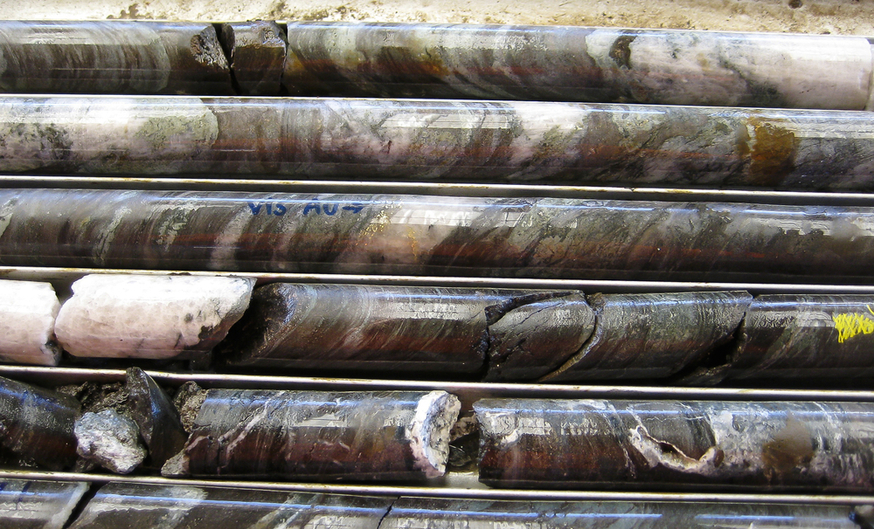 Image source: Adwo, Shutterstock.com. Stock image, not drill cores from Xtra Gold.
Xtra Gold Resources Corp. (TSX: XTG) shares increased by 7 cents on Tuesday after the company announced the latest set of drill results from its Kibi gold project in Ghana.
Xtra Gold posted assays from 13 more holes from the project, intercepting grades including a wide 61.57-metre interval of 2.42 grams of gold per tonne (g/t Au), 55.3 metres of 2.1 g/t Au, and 14.4 metres of 1.7 g/t Au. These results come from a 2,270-metre of drilling in a region between the deposit's Zone 2 and 3 targets on the Kibi-Winneba greenstone gold belt.
"We are very satisfied with the results of this initial phase of resource expansion drilling at the Double 19 deposit," Xtra's president CEO James Longshore said in the release. "These results have confirmed the down plunge continuity of the central fold hinge gold shoot, outside the scope of the current inferred mineral resource, as well as impactfully increased the resource expansion potential along the limbs of the fold structure."
A 2012 resource estimate on Kibi's Double 19 deposit, located in the aforementioned Zone 2, pegged it with an inferred 48,000 ounces of gold grading 2.43 g/t Au. The area is one of five deposits on Kibi, which are estimated to contain an indicated mineral resource of 278,000 ounces of gold grading 2.56 g/t Au.
Shares of Xtra Gold Resources Corp. have been on the rise in 2020 as the company has continued to post similarly encouraging assays. The stock is up 70 cents since April, and closed at $1.19 per share on Tuesday afternoon.