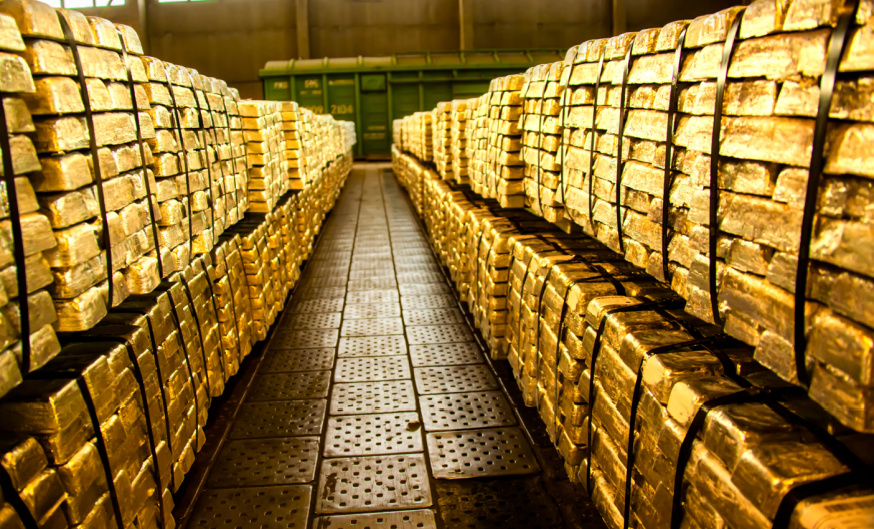 Uranium and gold have an interesting week ahead of them. Here's what the people are saying about these two trending metals:
Uranium
Hedge funds are seeing the opportunity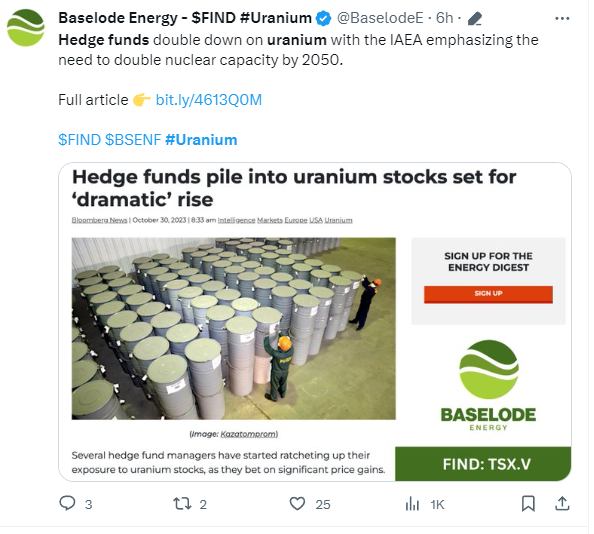 Uranium companies are cheering a recent article from Mining.com discussing the surge in attention to uranium companies like Cameco, Energy Fuels, NexGen, and more as the uranium bull market rises.
"...the equities could see dramatic upside, 50%, 100%, possibly more," says Matthew Langsford, who runs a AU$175 million resources fund at the Sydney-based Terra Capital.
Full article here.
Are uranium stocks overvalued?
In a recent interview with @antonioatanasv, Justin Huhn from UraniumInsider.com fielded the question that's on all the uranium skeptic's minds: Are uranium stocks currently overvalued?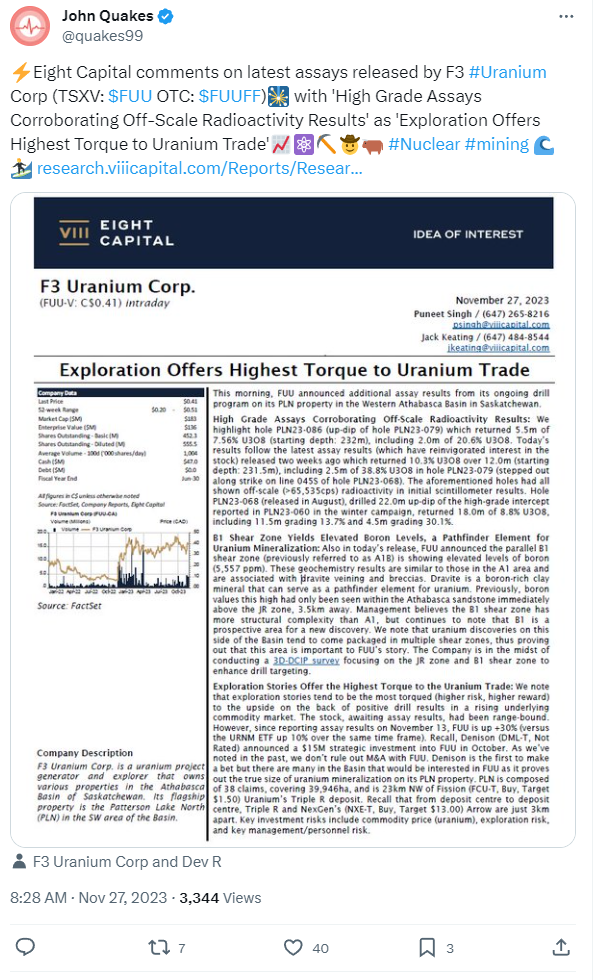 Mr. Huhn responded with some eloquent takes. He argues that there are definitely some highly-visible uranium companies that are overvalued—but there are also many that are undervalued. He believes there are companies that will be producing uranium that are not being considered by most as viable options, and that hidden value remains to be unlocked.
Mr. Huhn also argues that the discussion of overvalued/undervalued kind of misses the overall point, which is that the commodity is moving higher such that new flows are moving into the sector; something which is happening now.
The difference, he says, is that during the last uranium bull market, we were in an overall bull market. Today, we're in the doldrums of a deep bear market, which, since it dampens overall investor sentiment, is keeping uranium companies lower than they should (and, he argues, will eventually) reach.
Rick Rule gives up his current favourite uranium companies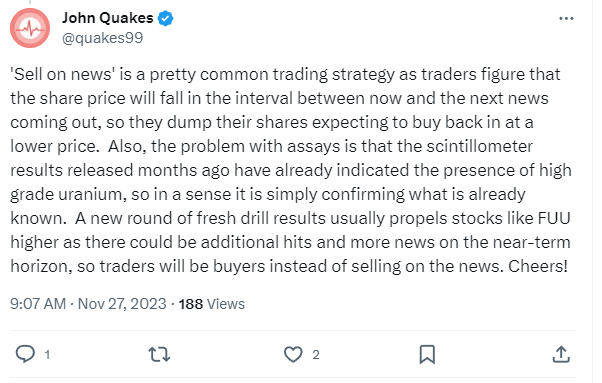 In another interview with Antonio Atanasov, Rick Rule gave a quick overview of his favourite uranium companies. He mentioned NexGen, Fission, Lotus, and Paladin as strong contenders, and said he "demoted" all other companies besides NexGen, Kazatomprom, Fission, and Cameco in his own valuation, simply because all the other players "stocks have doubled or tripled!"
---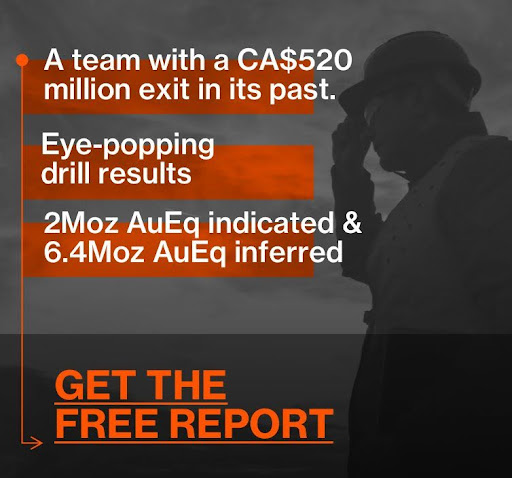 Sponsored by: U.S. GoldMining Inc.
---
Gold
Gold is still taking a backseat to uranium at the moment, but the goldbugs are, of course, expecting a shift sometime soon.
Gold bulls await a big event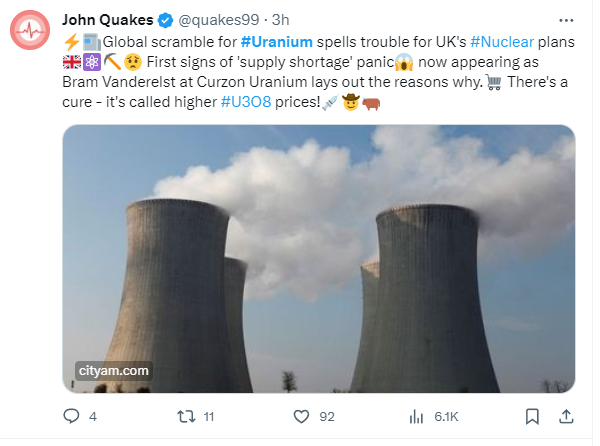 Past trends seem to be in gold's favour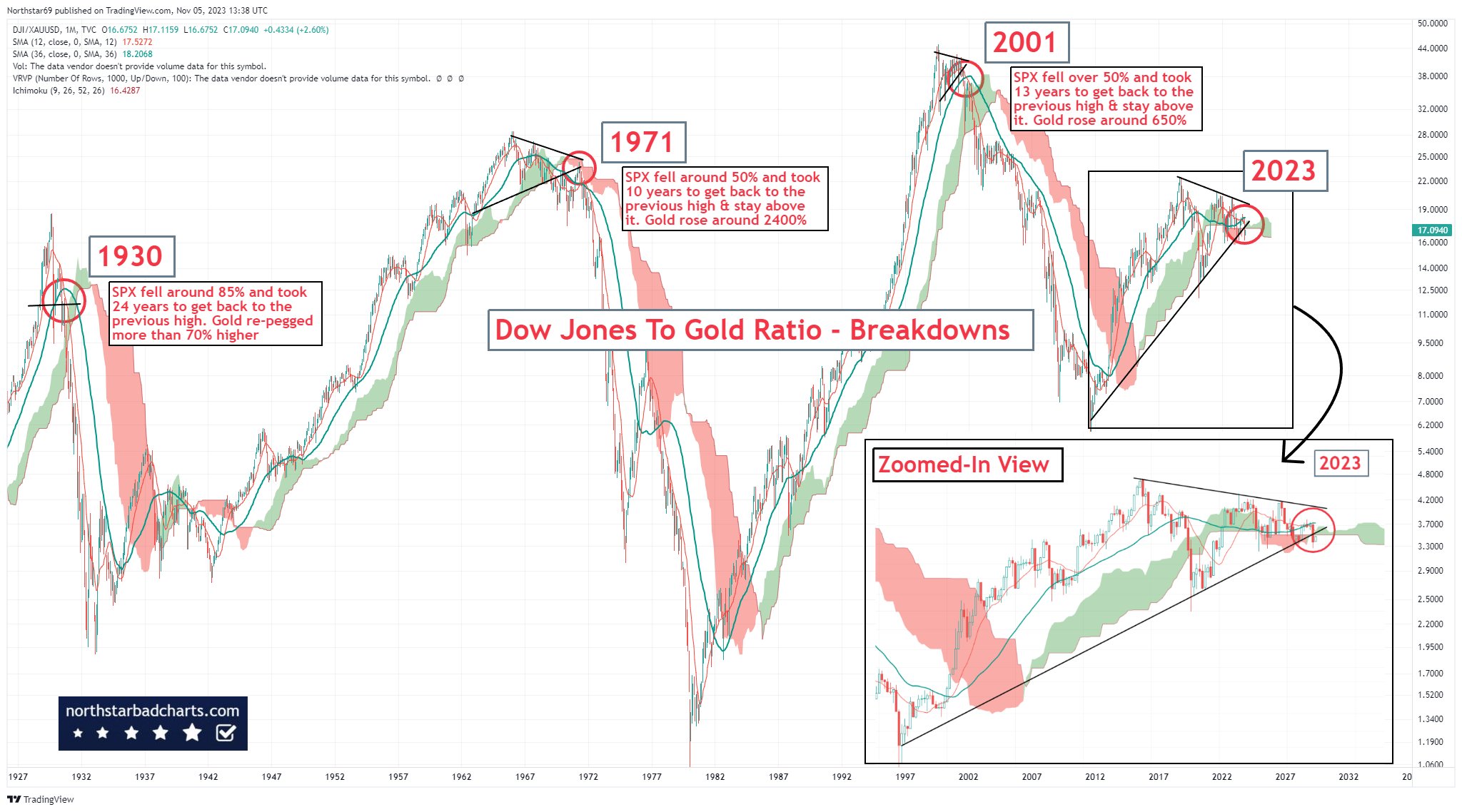 Newmont CEO: Israel-Hamas conflict could push gold to new heights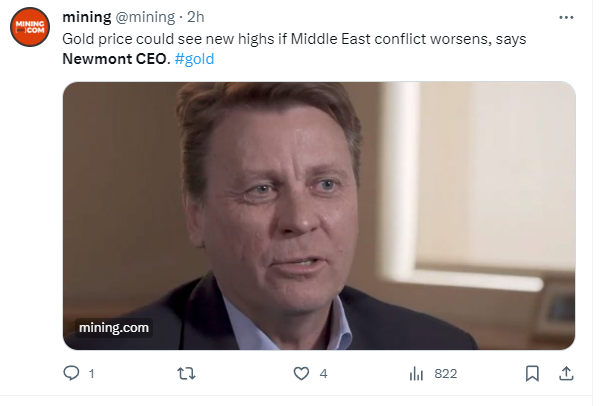 Tom Palmer, Newmont's CEO, says that the gold price could smash records if the Israel-Hamas war continues to worsen.
"There are certainly scenarios that you could see it pushing up through record highs," the executive said to Financial Times this morning.
See the full Mining.com article here.
The stage is set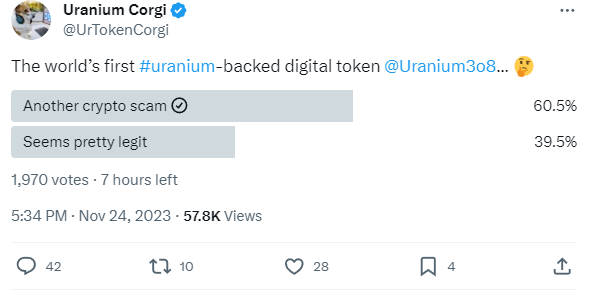 Gold is in a tricky situation, having punched through its $2,000 "resistance" level three times over the past three weeks, without any major pullbacks.
Both a jump or a correction seem possible at this moment, which, as Rashad Hajiyev points out here, is an uncomfortable position if you haven't bought gold yet.
As geopolitical chaos continues, we'll be keeping a close eye on these key commodities. Expect another breakdown next week.
---
Full Disclosure: U.S. Gold Mining Inc. is a paid sponsor of PrivatePlacements.com.
Disclaimer: The service and the contents are provided by the sender and other information providers on an "as is" basis. The sender and any and all other information providers expressly disclaim any and all warranties, express or implied any information herein or on PrivatePlacements.com.
PrivatePlacements.com and its and its owner and its owner's directors, employees, consultants, contractors, agents, and the like ("Representatives"), do not give any tax or investment advice; and do not advocate the purchase or sale of any security or investment. Contents are intended as general information. None of the contents constitutes an: (1) offer to sell or the solicitation of an offer to buy by Blender Media and/or its representatives any security or other investment; (2) offer by PrivatePlacements.com or its owner and/or their representatives to provide investment services of any kind; and/or (3) invitation, inducement, or encouragement by Blender Media and/or its representatives to any person to make any kind of investment decision. You should not rely on the content for investment or trading purposes. Securities or other investments referred to in any of the contents may not be suitable for you, and you should not make any kind of investment decision in relation to them without first obtaining independent investment advice from a person authorised to give it. All communications by PrivatePlacements.com are subject to its terms of use and disclaimer, which can be viewed here and here.